For the Month of: January 2023
January - Welcome to January, loving Cancer. It begins a brand-new year full of abundance, blessings, and new experiences and opportunities, designed to upgrade your life. Last month, a New Moon and Mercury retrograde invaded your relationship sector and brought much-needed change. As a result, your monthly horoscope predicts you finally putting the past behind you and embracing new opportunities and possibilities. Although you can expect a sudden and unexpected change this month, new doors are opening for you.
The month begins with sultry Venus moving into Aquarius on January 2, activating your intimacy and transformation sector. Then, A Full Moon arrives in your sign on January 6, prompting a significant emotional release and purging of old belongings, memories, and baggage that is getting in your way. A Full Moon marks the midpoint and climax of the Lunar cycle, amplifying New Moon intentions. In your sign, the Full Moon encourages you to refocus on yourself and tap into your creative abilities.
You might find that you've finally outgrown that stale, worn-out relationship and are ready to release to the world of transformation. If you've been ignoring your emotions, expect a dramatic release. So, take out self-care and reflection. Meditate on confidence, courage, strength, and protection for the New year.
Then, the Sun cojoins with Mercury RX the following day, bringing meaningful new surrounding relationships, legal contracts, business, ideas, publishing, and more.
When Mars turns direct in spunky Gemini on January 12, you suddenly see roadblocks to success clearing and offering a straight pathway forward. If you haven't been able to get goals, ideas, or projects off the ground in the past couple of months, you can bet that things will swiftly clear and increase speed.
On January 14, a Venus-Uranus square triggers the desire for freedom and independence in relationships. This is a healthy sign that it is time to let go of unhealthy attachments in relationships or intimate affairs where lust begins to die out. This is the perfect time to cut the excess out of your life and break free from old behaviors.
After three weeks of mishaps and minor setbacks, chatty Mercury goes direct in Capricorn on January 18, during a Sun-Pluto conjunction. Under these energies, you will feel the urge to make positive and rewarding changes in your life. In addition, you have a strong sense of personal destiny that leaves you feeling sexy and empowered.
The Sun enters quirky Aquarius on January 20, finding you focused on spicing up your sex life and enhancing your pocketbook. Aquarius is an independent and innovative sign encouraging you to set the bar high and see the bigger picture.
The next day, a lucky New Moon in Aquarius arrives to fulfill your deepest wishes and desires. This is the first New Moon of 2023 and launches a time of mystery, fresh starts, and uncertainty. So the time is now if you've been itching for a clean celestial slate! Finally, it is safe to come out of your shell and embrace your full potential.
Since this New Moon activates the area of your chart that rules your psyche, trauma, and vulnerability, asking you to embrace intimacy and all it has to offer.
Finally, the month ends with Uranus, the "Great Awakener," going direct in Taurus during a Venus-Saturn conjunction on January 22. The impact of these energies signals an imminent change in your social life, bringing you in contact with unconventional and original people. Venus enters warm Pisces on January 26, and brings sweetness to your adventure and spirituality sector.
In summary, the month encourages you to be honest and speak from your heart. Release relationships where you can't be authentic and let your spirit fly. Happy January!
January's affirmation, "I learn not to rationalize staying stuck or settling for less than what I really want or deserve. I embrace intimacy as a gateway to spirituality."
Make sure to check back every month to get your personalized astrological insight from our experts.
Want more information about your own personal astrology? Discover more about your zodiac sign, monthly transits, and your birth chart through our free resources.
Get Your Free Horoscopes Here
Let These Tarot Readings Help Guide You Through Your Day
Daily Gemstone & Crystal Reading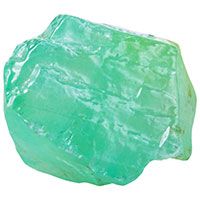 Because its primary chakra is the Heart chakra, working with Green Calcite can strengthen our connection You could also create an "Opportunity Elixir" by infusing your drink with Green Aventurine. Place a small (clean) chunk in your water or tea and let it soak for 30 minutes or more. The…