For the Month of: May 2023
May - Welcome to May, dear Cancer! The stars are aligned in your favor this month, and your horoscope predicts plenty of potential for growth and success, making it the perfect time to flex those crab claws and seize the day! Whether you're looking to start a new project or shake things up in your romantic life, the universe is ready to offer you a helping hand. So why not take a chance and try something new? Don't be afraid to take risks and explore uncharted territory.
The month begins with mighty Pluto, the planet of transformation and rebirth, moving backward in Aquarius on May 1. You might feel like you're treading water, but fear not! This transit is an opportunity to dive deep and explore the depths of your soul. It's time to shed old patterns and beliefs that no longer serve you and make room for a new and improved version of yourself. Think of it as a cosmic spa day - a chance to exfoliate your emotional baggage and emerge renewed and refreshed.
A Lunar eclipse in Scorpio will land in your romance and creativity sector that Friday. This celestial event is like a shot of tequila; it might be intense and guaranteed to shake things up. Whether you're single and ready to mingle or happily partnered up, this Full Moon will ignite your passions and bring a little drama to your love life. In addition, Full Moons represent a time of heightened intuition and spiritual connection, where the veil between the physical and metaphysical worlds is thin. Whether you're howling at the Moon or simply gazing up in wonder, it's time to tap into your inner magic and embrace the mystical energy of the universe. So, light some candles, burn some sage and let this eclipse work its magic on you.
It looks like you are in for a little treat because on May 7, Venus, the planet of beauty and love, is gracing your sign with her presence, and things are about to get downright enchanting. This magnetic energy calls you to embrace your inner romantic and let your charm and grace shine like a diamond; treat yourself to a bubble bath or a luxurious massage, and let Venus work her magic on your mind, body, and soul. Then, who knows who or what you might attract with your newfound allure?
On May 16, Jupiter changes signs and settles into Taurus, ushering a New Moon in Taurus on May 19. Again, the universe spoils you with two lotto wins in one week. With Jupiter in Taurus, expect to expand your social circle and tap into the power of your community. And with a New Moon in Taurus, you're being handed a cosmic blank canvas to paint your dreams onto. Use this magical energy to plant seeds of intention and watch them blossom into reality.
The next day, Mars packs its bags and moves out of your sign into fiery Leo. With Mars in Leo, you might feel more motivated than ever to chase your financial goals and build wealth. So whether you're starting a new business, investing in stocks, or simply squirreling away your savings, Mars in Leo is here to light a fire under your financial plans.
Gemini season arrives on May 21, and the universe calls for you to slow down and take a break. Don't think of this as a punishment; it's an invitation to dive deep into your inner world and recharge your cosmic batteries. The universe has big plans for you, but first, it's time to enjoy relaxation.
The month ends with the Moon in sultry Scorpio on May 31, and you'll find yourself more in touch with your sensuality, craving intimacy and yearning for deep connections. So, why not let the Moonlight the way to a night of intense and unforgettable passion?
This month, use frankincense essential oil to help alleviate anxiety or tension. Along with clear quartz to promote clarity of thought.
May's Mantra, "I can overcome anything that comes my way. My body is healing, my mind is at peace, and my spirit is unbreakable. I trust my ability to face each day with grace and courage and find joy in the journey."
Make sure to check back every month to get your personalized astrological insight from our experts.
Want more information about your own personal astrology? Discover more about your zodiac sign, monthly transits, and your birth chart through our free resources.
Get Your Free Horoscopes Here
There is definitely a sense of broken dreams or loss when the 5 of Pentacles appears. The Tarot is indicating that you are going through a tough time, and feel "out in the cold" in some way. Maybe you feel spiritually or emotionally abandoned by someone or something. Maybe you are just feeling a little…
Let These Tarot Readings Help Guide You Through Your Day
Daily Gemstone & Crystal Reading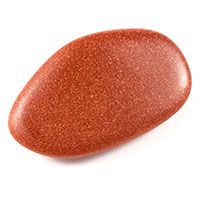 Red Goldstone is an uplifting crystal that can be used to find your positivity, become more confident, seek higher levels of calm, and can encourage us to be more ambitious and driven. The little flecks of gold throughout the crystal are symbolic of the "light" you may find when using…