For the Month of: December 2022
December - Welcome to December, beautiful Cancer! The Sun in Sagittarius continues to expand your productivity and wellness sector, finding you busy at work and sorting out your hectic schedule for things that support your well-being. Last month, a Partial Lunar Eclipse illuminated your wishes and dreams sector, bringing unexpected but necessary change. Yes, there were plenty of challenges this year, but you overcame them by concentrating on what matters most. As a result, your monthly horoscope predicts a significant milestone, which will bring about a happy outcome in your endeavors.
On December 1, career and lifestyle issues are on your mind during the First Quarter Moon in Aries, activating potential in your public sector. In addition, a Mars-Neptune square triggers a newfound interest in the arts, music, writing, or poetry. Finally, although you may be prone to moodiness, you are inspired to seek career and spiritual fulfillment.
Mystical Neptune ends its retrograde in fellow Water sign Pisces on December 3. You can find yourself having a dynamic breakthrough and upgrading to purer vibrations- ultimately stimulating your interest in spirituality and higher consciousness. You yearn to find meaning in life by changing your way of perceiving, so go for it.
On December 6, chatty Mercury enters your opposite sign, Capricorn, influencing serious discussions about partnerships, commitment, and long-term goals. Single or in a relationship, you desire stability but must ask yourself, are you ready to put in the necessary work?
Then, a Full Moon in Gemini arrives on Wednesday, December 7, and if you've been waiting for the perfect moment for bold, risk-taking, the time is now. And the Full Moon's aspect to Mars generates the right amount of confidence, sexiness, and bravery, activated with a boost of willpower to act on your desires. However, since Full Moons are emotionally charged, and you tend to feel them the most, lay low and rest. Recharge your internal batteries and store all that sexy confidence for another day. It is the last Full Moon of 2022, a final release that pushes toward brand-new avenues of happiness and success.
December 9 finds sexy Venus entering persistent Capricorn and boy; it's a powerful time for intimate, business, or platonic relationships. Then, on December 20, Jupiter enters Aries until May 2023 and will not return to Aries until 2034, so make this energy worth it. Focus on growth, expansion, and learning philosophy to expand your belief system.
Ambitious Capricorn season begins on Wednesday, December 21, on Winter Solstice, with a Sun-Jupiter square prompting a series of events that change your vision and life direction. So naturally, there's a great desire to get ahead; however, be careful that you don't push too hard.
Then, Chiron stations direct in Aries on December 23, during a New Moon in Capricorn. You endured a great deal of healing past wounds and expressing your creativity this year. Tune into the energies to become more secure in manifesting your dreams. 
A New Moon is symbolic of a brand-new start in the Lunar cycle, signaling an internal shift about manifesting your true purpose and planting seeds for the future. In your opposite sign Capricorn, the New Moon encourages you not to let fear or guilt stand in your way of success. Instead, be proud of what you have achieved. You deserve all the love, positivity, and support coming your way. Since the Moon is your planetary ruler and the energies tend to hit you intensely, you'll want to ground and set healthy, energetic boundaries. 
Finally, the month ends with Mercury going retrograde in your relationship sector during a First Quarter Moon in Aries. Mercury retrogrades into 2023 and targets your ambitions, career, and public status, so don't waste time or rush things. Go with the flow as much as possible.
See you next year!
December's affirmation, "I use my challenges to help me get clear about what I truly want.
I will not allow fear to overwhelm my resourcefulness. Instead of focusing on what is not working in my life,
I learn to find what is working and focus on it. I welcome in the New Year with gratitude and deep trust."
Make sure to check back every month to get your personalized astrological insight from our experts.
Want more information about your own personal astrology? Discover more about your zodiac sign, monthly transits, and your birth chart through our free resources.
Get Your Free Horoscopes Here
The Knight of Cups is always a welcome card in any reading, particularly in Tarot readings about love or romance. A wonderful invitation is on its way to you, or you may be the one receiving the invitation. This invitation may be anything from a new date if you are single, to a proposal if…
Let These Tarot Readings Help Guide You Through Your Day
Daily Gemstone & Crystal Reading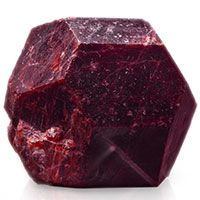 Garnet promotes love and attracts romance, making it an excellent stone to work with for anyone looking to increase the love in their life. This crystal is particularly helpful for those under the signs of Leo, Virgo, Capricorn, and Aquarius, all signs where loyalty is of the utmost importance. Garnet's…