Libra Daily Horoscope: Tomorrow

Mar 26, 2023 - Partnering up could lead you to ideas and places you never dreamed of, Libra. Yes, you're normally one to see exactly where the road can take you along with each and every possibility along the way, but today it would be best to form a dynamic duo because your vision will be twice as exciting.
The primal Sun is moving through Aries and your 7th House of one-on-one relationships and legal contracts, and while he's there he'll reach out across the heavens to the intuitive Moon in Gemini and your entrepreneurial 9th House of adventure and boundless horizons, encouraging you to look as far afield as possible to find your success.
There are times when you want to focus on the tried and true, and with good reason, but I'm here to tell you that today the stars are encouraging a different approach. Try something new and see what success comes your way!
Mar 26, 2023 - Does your romantic partnership provide your life with meaningfulness? Does it connect you spiritually to something bigger than you, something that you believe in? These are good questions to reflect on today as the Moon is in Gemini and in your 9th house. It's…
Mar 26, 2023 - The Moon is in Gemini today and in your 9th house. Do you feel spiritually fulfilled at what you do? Does it connect you to something bigger than you? Does it provide your life with meaning? These are all relevant questions to reflect on…
Mar 26, 2023 - This is a positive day for going inwards and shutting out the outside noise for a while. This Moon encourages you to focus on self-care and this includes ways in which finances are affecting you on a negative scale. Where in your life can…
Mar 26, 2023 - During this time, your energy is focused on finding balance and harmony in all areas of your life. Meditate with a piece of rose quartz to help you cultivate a sense of peace and love in your heart. Include more foods like berries and…
Mar 26, 2023 - Let people guide you today, Libra, because it looks as though they'll lead you to a very pleasurable place so give up the lead and let yourself be a follower for once. The primal Sun is moving through Aries and your 7th House of…
More Horoscopes for Libra
You are looking for or needing harmony and balance in a situation when the Temperance card appears. But this is not a negative connotation. The Temperance card appears in the Tarot after The Death card, and this is sending us the call for balance and peace after a stressful situation. In most cases, the balance…
Let These Tarot Readings Help Guide You Through Your Day
Daily Gemstone & Crystal Reading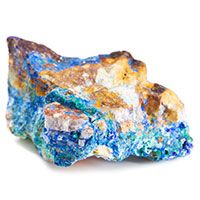 Azurite is known to help when we are dealing with emotional issues, confidence, and the feeling of impatience. Sometimes we lose touch with our ability to be kind and to feel comfortable within our own skin or within our surroundings. Sagittarius and Aquarius can feel particularly left out from time…