Sagittarius Daily Horoscope

Dec 05, 2022 - Don't rush into anything too quickly right now, Sagittarius, because the last thing you want to do is get so worked up you trip over yourself in the process. That's not to say you're doomed to failure or anything, merely that there are a few bumps in the road that would be better avoided.
The Moon is currently moving through Taurus and your 6th House of work and routine, so even if you have nothing on your plate you're in the mood to get something done. That something will probably turn out to be a surprise thanks to the fact that rebellious Uranus will align with the Moon at the exact same degree, turning the day on its head.
This angle isn't a bad one, but it isn't inherently good either, so keep your wits about you and you should get through today just fine, and maybe even accomplish a few impressive–and financially viable–projects in the meantime.
Dec 05, 2022 - Are you willing to do the necessary work that a relationship requires in order to actually thrive and succeed? The Moon is in Taurus and in your 6th house. People quite often want relationships to be easy and go smoothly without actually having the…
Dec 05, 2022 - Discipline is discipleship, this means that discipline isn't thinking "oh, I hate doing this but I have to do it anyway." It means knowing that you're doing what you're doing because it is paving the way for you to accomplish what you want to.…
Dec 05, 2022 - As Full Moon energy approaches, Sag, now is the time to consider and reflect on how your financial decisions this year have led you to where you are today. You may have a couple of regrets but remember, a new year approaches and so…
Dec 05, 2022 - You may feel more stressed out today, Sagittarius, especially if there are things in your life that you feel you cannot control. It's crucial that you practice activities that bring you peace and infuse your spirit with positivity. Meditation, yoga, and crystal healing are…
Dec 05, 2022 - I hate to be the bearer of bad news, Sagittarius, but it looks like there is going to be a little fly in the ointment today when it comes to indulging in your pleasures, so if you were hoping for today to be a…
More Horoscopes for Sagittarius
Let These Tarot Readings Help Guide You Through Your Day
Daily Gemstone & Crystal Reading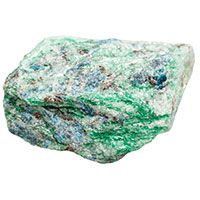 Fuchsite is often associated with healing, loving energy due to this green hue and its ties to the Heart chakra. This crystal allows us to find our inner light and release negative emotional energy, which allows those who use it to become more compassionate and forgiving in our relationships. Due…