Sagittarius Daily Horoscope

Dec 01, 2022 - This is going to be a little bit of an awkward day, so if you feel like you keep winding up with your foot firmly planted in your mouth, well, don't worry because it's only temporary.
The intuitive Moon is moving through Pisces and your foundational 4th House of home and family, so you're feeling a little more sensitive than usual and would probably prefer to be nesting rather than anything else. You're extra conscious of this transit thanks to the fact that throughout the day the Moon is forming a tense square to romantic Venus in your 1st House of self-expression and action, so your words might not exactly match up with your intended action right now.
It could be only too easy to find yourself saying the wrong thing, so if you've got any major moves to make I'd recommend holding off a bit longer.
Dec 01, 2022 - Sometimes it is ok to just stay at home and cuddle with your loved one. The Moon is in Pisces and in your 4th house. It is highlighting the necessity of allowing yourself to do that. We are quite conditioned in our society to…
Dec 01, 2022 - How much do you rest? Do you allow yourself downtime to replenish your energy? These are good questions to ask yourself today as the Moon is in Pisces and in your 4th house. Do you get so caught up in working that you forget…
Dec 01, 2022 - This is a great time to discuss your financial issues with others, Sag. Excellent disciplined energy is in the air and compels you to manifest your goals into reality. This is a great time to brainstorm with others about the ideas you want to…
Dec 01, 2022 - This planetary energy raises your vibrations and helps you feel more positive today, Sagittarius. Try to allow yourself to enjoy this energy by practicing gratitude and focusing on manifestation. This energy allows you to attract what you want in life, so make a list…
Dec 01, 2022 - Be sure to check in with yourself regularly throughout the day, because things could change on a dime and the thing that changes first will be your opinion and emotions. The Moon is currently moving through Pisces, illuminating your foundational 4th House of home…
More Horoscopes for Sagittarius
It's always a wonderful sign when the Ace of Cups appears in a Tarot reading, especially if that reading is asking a simple Yes or No question. The answer, in this case, is most definitely a YES, and the Ace of Cups brings with it an offering of love. This is a loving card to…
Let These Tarot Readings Help Guide You Through Your Day
Daily Gemstone & Crystal Reading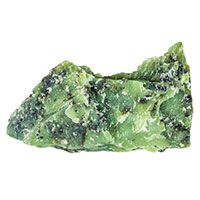 The Serpentine crystal (also called New Jade) can be soothing when we are struggling to overcome feelings of anger or irritability. This stone can help us reset ourselves, find abundance, and manifest healing energy. For energetic Gemini, a sign that needs its good humor and to get others on their…