Sagittarius Daily Horoscope

Mar 25, 2023 - Things are about to get rather intense, Sagittarius, and while you can handle that better than anyone I still think it's best to be as prepared as possible so let's examine the facts. Mars, the planet of action, energy, and intensity, is swooping out of determined Gemini and your 7th House of one-on-one partnerships today and leaping into Cancer and your intense 8th House of lump sums and shared resources.
Over the next eight weeks you have the chance to make huge financial strides–the 2nd House rules your daily take-home and regular salary so the 8th House tends to deal with money that comes in big chunks all at once–but at the same time you could find yourself having to shell out more cash than you'd prefer. Try your best to keep tabs on your spending because money could disappear as quickly as you make it right now.
Mar 25, 2023 - Is it easy for you to be in relationship to others? Are you skilled in your diplomacy skills that are a necessary pillar in any healthy relationship? The Moon is in Gemini and in your 7th house. It is important that you know how…
Mar 25, 2023 - Do you feel satisfied within your partnerships at work? Is there an element of mutuality and trust in those connections of yours? These are pertinent questions to reflect on today as the Moon is in Gemini and in your 7th house of business partnerships.…
Mar 25, 2023 - This is a time of powerful concentration for you, especially when delving into your inner world, Sag. This is also a time of focusing on inheritance and legacy. What legacy are you leaving on the financial plane? Now is the time to think of…
Mar 25, 2023 - During this transit, you may feel more in touch with your emotions and desires. This is a great time to focus on self-care and pampering yourself. Take the opportunity to indulge in a luxurious bath or treat yourself to a massage. Rose quartz is…
Mar 25, 2023 - Things are about to get very intense, Sagittarius, so get ready for a very, very heady time. Sex god Mars has spent the last seven months roving through Gemini and your 7th House of romantic partnerships, so hopefully sparks have flown with a special…
More Horoscopes for Sagittarius
You are looking for or needing harmony and balance in a situation when the Temperance card appears. But this is not a negative connotation. The Temperance card appears in the Tarot after The Death card, and this is sending us the call for balance and peace after a stressful situation. In most cases, the balance…
Let These Tarot Readings Help Guide You Through Your Day
Daily Gemstone & Crystal Reading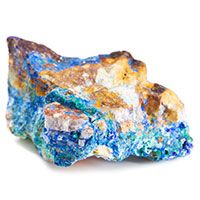 Azurite is known to help when we are dealing with emotional issues, confidence, and the feeling of impatience. Sometimes we lose touch with our ability to be kind and to feel comfortable within our own skin or within our surroundings. Sagittarius and Aquarius can feel particularly left out from time…