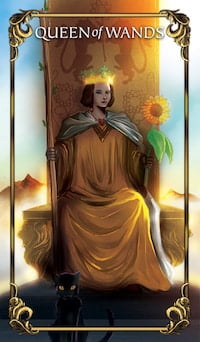 The Queen of Wands Tarot card is dramatic, confident, and has a flair that sprinkles passion on any situation she encounters. If she represents you in a Tarot reading, then this is how you are being perceived by the world or by someone in your world. You are seen as confident, passionate, kind, and even a little bit intuitive. You fear nothing as you enter the world, which shows in your success.
When representing someone else in a reading, the Queen of Wands is an older woman that will come to you in a time of need and take care of all matters to ensure peace and bliss return to your domain.
In the Queen of Wands tarot card, we see a woman that comes across as warm, welcoming, creative, and passionate. She may even have psychic instincts! The black cat at her feet hints at this, as do the salamanders shown in this card. She is the life of the party, the nicest and kindest woman in the room, and people can't help but be gravitated toward her.
She often represents a woman that is a Fire sign, as Wands represent the Fire signs of Aries, Sagittarius, and Leo. If she does, she will be an older woman or one who is wise beyond her years. She will be loyal, spirited, creative, and has a special spark that turns heads when she enters the room.