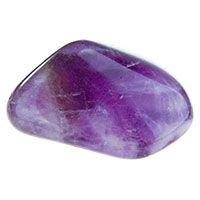 Affirmation(s): "Any possibility can be your reality,"
Amethyst is a member of the Quartz family, its color range starts with the palest lilac and goes to the deepest and darkest of purples. In its raw state, it forms in points, from tiny clusters in the druse, to huge natural termination.
Containing qualities of purification and protection, Amethyst is especially powerful for those under the signs of Virgo, Capricorn, Aquarius, and Pisces.
Amethyst is one of the most well-known crystals for healing. It is famous for its ability to increase willpower and self-control.
This stone also increases intuition, clears negative energy, and relieves stress. It's known as the "all healer," and encourages healing in a multitude of ways. It is known to enhance wisdom and promote greater awareness.
Amethyst is thought to affect our dreams, so if you have been suffering from a particularly bad set of bad dreams, try wearing amethyst on your body, or keeping it under your pillow for protection against nightmares, and to bring on softer, more positive dreaming.
As its primary chakra is the Third Eye chakra, meditating upon that area could be particularly beneficial before heading to bed for the night.
Many use this crystal to help with sleep, motivation, or memory, so keeping it close to your work desk is another great way to use it.