Dec 05, 2022 - You generally prefer to keep your eye on the ball in a way that leaves absolutely zero room for any kind of confusion, Taurus. I'm not saying that there is anything crazy about this, I'm merely stating facts. Today, however, you might find yourself in a situation that makes it all but impossible for you to keep your normally levelheaded nature in check.
The intuitive Moon is moving through your sign right now, and while she's there she's going to align at the same degree as Uranus, the planet of surprises, throwing you a not-quite-curve ball. When Uranus gets involved it's impossible to tell what is going to come our way, and since the Moon and he will be coming together at the same degree as opposed to pinging across the sky, these two bodies will be so synced up it'll be impossible to tell what is what.
Just go with the flow and maybe keep an extra eye on your bejavior; you could shoot the moon without even realizing it.
Dec 05, 2022 - Do you know how to give yourself as much love as you do your romantic partner? Is it easy for you to not completely lose yourself in your lover, remembering that it's equally important to devote time and energy to self-love? These are relevant…
Dec 05, 2022 - The Moon is in Taurus and in your 1st house of self. This is asking you to get more in touch with your confidence and ability to take initiative to make what you want to happen. The way we hold and present ourselves creates…
Dec 05, 2022 - Now is not the time to let financial concerns get the better of you, Taurus, so the message today is - go easy on yourself! You may be tempted to just focus on the heavy stuff, especially if you have big ventures on the…
Dec 05, 2022 - This is a great day for communication, Taurus, as you feel more sociable and friendlier than usual. Try video chatting with your best friend or having a family dinner over good music and pleasant conversations. Connecting helps you feel healthier and happier today. Red…
Dec 05, 2022 - You're known as the most sensual sign of the zodiac, Taurus, and for good reason. Few people know how to enjoy the simple things in life, but few people also have a similar appreciation for the truly luxurious and stimulating quite like you do.…
More Horoscopes for Taurus
Let These Tarot Readings Help Guide You Through Your Day
Daily Gemstone & Crystal Reading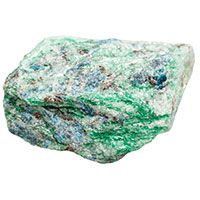 Fuchsite is often associated with healing, loving energy due to this green hue and its ties to the Heart chakra. This crystal allows us to find our inner light and release negative emotional energy, which allows those who use it to become more compassionate and forgiving in our relationships. Due…