Dec 07, 2022 - You've been extremely busy for a long time; in fact, it wouldn't be one bit surprising if you've been on nothing short of a human hamster wheel, running and running after one thing or another until you're just about ready to give out.
It's a lot to give that much of yourself to any one thing without getting any one thing in return. You at least need the proverbial carrot at the end of the stick, and lately it might have been difficult to even figure out what that is, never mind whether or not there's even one hanging in front of you to begin with.
Well, it looks like that hamster wheel is about to start slowing down and that carrot, whether you've seen it already or not, is going to start getting closer and closer. Just keep running a little bit longer–heck, you can even slow to a nice jog at this point–and know that there is something wonderful coming your way.
Dec 07, 2022 - Do you feel that your romantic partnerships bring you closer to your values? Does your partner have values that are in alignment with yours? These are necessary questions to reflect on today as the Moon is in Gemini and in your 2nd house. It…
Dec 07, 2022 - Are you satisfied with your current financial situation? Are you making as much money as you want to through your work? These are good questions to ask yourself today as the Moon is in Gemini and in your 2nd house of finances and personal…
Dec 07, 2022 - Happy Full Moon, Taurus! This lunar energy encourages you to step back and organize things from a new perspective. Chances are, you have had some concerns about the direction your finances are going in and a few unwelcome surprises may have given you cause…
Dec 07, 2022 - You're drawn towards social activity and connection with other people, Taurus. The potential for falling in love exists today—or, if you're in a relationship, falling in love all over again. Embrace the loving vibes by keeping your heart open and receptive. Balancing the chakras,…
Dec 07, 2022 - You tend to put up a pretty cool front most of the time, Taurus. There are a lot of reasons for this, personal reasons I'm sure, but one is that you simply don't always want people to see all the effort and passion and…
More Horoscopes for Taurus
The Knight of Cups is always a welcome card in any reading, particularly in Tarot readings about love or romance. A wonderful invitation is on its way to you, or you may be the one receiving the invitation. This invitation may be anything from a new date if you are single, to a proposal if…
Let These Tarot Readings Help Guide You Through Your Day
Daily Gemstone & Crystal Reading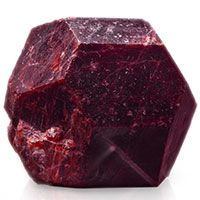 Garnet promotes love and attracts romance, making it an excellent stone to work with for anyone looking to increase the love in their life. This crystal is particularly helpful for those under the signs of Leo, Virgo, Capricorn, and Aquarius, all signs where loyalty is of the utmost importance. Garnet's…