Mar 25, 2023 - You've been burning the midnight oil for what feels like ages, Virgo, and I can agree there has been so much go-go-going that you're probably a little unsure of where you're even standing at the moment.
Today Mars wraps up a seven-month visit to Gemini and your ambitious 10th House of career goals and achievements; during this time you probably managed to increase your net worth or at least lay the groundwork for future success, but that vibration shifts today as Mars jumps into Cancer and your 11th House of social groups and global communications.
For the next eight weeks you are going to be doing less work at the office and more networking for your future success; you've been occupying the number one sport for so long that I truly believe it would be best to climb down off the pedestal and hang out with a bunch of like-minded achievers. You've accomplished a lot; now let's see what you can make out of it.
Mar 25, 2023 - The Moon is in Gemini and in your 10th house. How can you allow your romantic relationship to be an example for others of what an ideal relationship looks like? When I say an ideal relationship, I mean one that is built on honesty,…
Mar 25, 2023 - Are you in touch with your calling? This is something to ask yourself today as the Moon is in Gemini and in your 10th house of career. So often people go through their lives, mindlessly working at a job that doesn't fulfill them, that…
Mar 25, 2023 - You may feel especially drawn to charity work or spreading good energy where possible, Virgo. This is a time when you are feeling extra generous; just be careful that your generosity is not taken advantage of by more unscrupulous characters. This is also an…
Mar 25, 2023 - During the Moon in Taurus transit, you may feel more sensual and grounded than usual. This is a great time to focus on self-care and pampering yourself. Use this time to indulge in a luxurious bath or treat yourself to a massage, Virgo. Amber…
Mar 25, 2023 - Time to let off some steam, Virgo! You've been burning the midnight oil and giving it your all but it's time for a change of program. For the last seven months sex god Mars has been putting on his professional suit and tie everyday…
More Horoscopes for Virgo
You are looking for or needing harmony and balance in a situation when the Temperance card appears. But this is not a negative connotation. The Temperance card appears in the Tarot after The Death card, and this is sending us the call for balance and peace after a stressful situation. In most cases, the balance…
Let These Tarot Readings Help Guide You Through Your Day
Daily Gemstone & Crystal Reading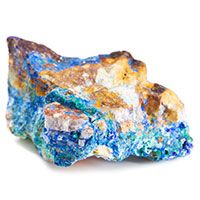 Azurite is known to help when we are dealing with emotional issues, confidence, and the feeling of impatience. Sometimes we lose touch with our ability to be kind and to feel comfortable within our own skin or within our surroundings. Sagittarius and Aquarius can feel particularly left out from time…