Dec 09, 2022 - What have you got percolating in that creative mind of yours, Virgo? You have so many incredible talents that you occasionally leave on the backburner, but for the duration of the next three weeks the universe is encouraging you to let out your creativity, and the moment you do you might be surprised by the accolades that come your way.
This auspicious vibration is thanks to pleasure-loving Venus entering your 5th House of romance and glamour to stay until the holidays. During this time she'll encourage you to put your pen to paper, paint to canvas, and let loose any other talent you've got. Maybe you wrote off a hobby as nothing but a hobby, but take a second look; is there a way to make a few dollars off your art?
Consider submitting your work to a gallery or sending some poems out for publication; you'll be glad you did when the checks start rolling in.
Dec 09, 2022 - The Moon is in Cancer and in your 11th house today. Do you have a sense of friendship in your intimate relationships? Do you feel that you and your partner aspire towards the same goals and ideals in your personal and joint lives? These…
Dec 09, 2022 - Community is such a determining factor of whether you experience joy or fulfillment at your job. The Moon is in Cancer today and in your 11th house. This is highlighting the nature of your relationship to your coworkers. Do you have an easy time…
Dec 09, 2022 - There is a possibility you may feel a little disconnected from yourself today, Virgo, and this can bring some confusing moments regarding finances. So when making payments, make sure that you check and double-check everything! The lunar energy bring you positive energy in regard…
Dec 09, 2022 - You might want to escape your feelings more than usual today, Virgo, which can lead to overindulging in food or alcohol. Try to infuse your spirit with balance and harmony through activities like yoga, meditation, and chakra work today. Cerussite is a stone that…
Dec 09, 2022 - You're not exactly one to play the wallflower, Virgo, but whether or not you want to get out there, for the next three weeks the universe is calling on you to step out of the shadows and show the world what you're working with.…
More Horoscopes for Virgo
In the 7 of Pentacles, we saw the worker taking a pause to assess a situation, and here, the 8 of Pentacles has him back at work. He is toiling away at his workbench and piling up 8 of the pentacles in the opposite direction. This Tarot card is an action card that sends the…
Let These Tarot Readings Help Guide You Through Your Day
Daily Gemstone & Crystal Reading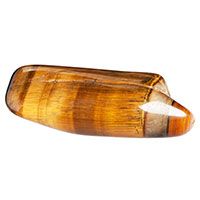 If we are looking to motivate ourselves to make a change or a commitment or are feeling depressed and self-critical, working with or keeping Golden Tiger's Eye near can provide protection and help us to find some sense of balance. Its warmth and brightness, both visually and vibrationally, can help…