Dec 01, 2022 - Watch your words right now, and the words of others, because from the look of things you're going to be a little more emotional than usual today and that could get in the way of your work. That's not to say you can't pursue your goals as you are want to do, but simply that you ought to be a little more careful than usual.
Venus recently arrived in Sagittarius for her annual visit and while she's here she'll be illuminating your foundational 4th House of home and family. This transit is really all about nesting and reviewing your emotional connections, so work matters probably won't be taking up a ton of your attention right now as you tend to other things.
Today, however, the Moon in your sector of partnerships and contracts will be forming a tense square to the messenger planet, so things could get heated with a colleague. Don't let the heat of the moment get in the way of your long-term plans.
Dec 01, 2022 - Is it easy for you to be in relationship to others? Are you skilled in your diplomacy skills that are a necessary pillar in any healthy relationship? The Moon is in Pisces and in your 7th house. It is important that you know how…
Dec 01, 2022 - Bring your attention to your business partnerships. What's the nature of your relationships with those whom you work with? Today the Moon is in Pisces and in your 7th house. Can you afford to compromise more in your interactions with others? A necessary ingredient…
Dec 01, 2022 - You're feeling very practical today and keen to get things done, Virgo. You may stumble across old possessions that you could sell in the coming future, so keep an open mind today and unleash the power of your creativity! Keep a good balance today…
Dec 01, 2022 - You feel more like celebrating and enjoying life than usual today, Virgo. This carefree energy helps you relax and enjoy the day. Amplify your optimism by working on manifestation and practicing gratitude. Focus on things that bring you joy to amplify confidence today. Selenite…
Dec 01, 2022 - There is a lot happening overhead today, and while you might find yourself pulled into the orbit of someone special there is a chance you might experience a few roadblocks getting there. The intuitive Moon is moving through Pisces and your 7th House of…
More Horoscopes for Virgo
It's always a wonderful sign when the Ace of Cups appears in a Tarot reading, especially if that reading is asking a simple Yes or No question. The answer, in this case, is most definitely a YES, and the Ace of Cups brings with it an offering of love. This is a loving card to…
Let These Tarot Readings Help Guide You Through Your Day
Daily Gemstone & Crystal Reading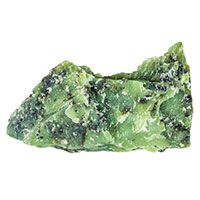 The Serpentine crystal (also called New Jade) can be soothing when we are struggling to overcome feelings of anger or irritability. This stone can help us reset ourselves, find abundance, and manifest healing energy. For energetic Gemini, a sign that needs its good humor and to get others on their…