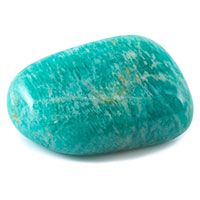 Affirmation(s): "I am in tune with my senses and surroundings."
Amazonite is a crystal that can help when feeling less compassionate or communicating effectively is becoming difficult. This crystal is especially helpful for the sign of Virgo.
Amazonite will help to center you and balance any strong feelings of anger or aggravation.
It is also a stone known for its association with wealth and abundance. With its soothing green shade, it's no wonder that Amazonite has been known to calm our spirits and call in luck, money, and wealth. 
This stone also helps us at the crossroads of major decisions and ensures that we're in the best headspace to proceed with our monetary matters.
If you have a hard time with reckless or impulse spending or balk at the sight of a decision involving money or your career, Amazonite may be the stone to help you soothe the soul.
Keep a piece close to your heart when trying to balance the Heart chakra, as this is Amazonite's primary chakra.
If you have been tense and feel as though your nerves are on edge and you could burst with frustration, hold Amazonite close and concentrate on feeling calmer and more in control.