Dec 03, 2023 - Today could go in any number of directions, Pisces, so pay attention because the stars are playing some tricks. Venus is moving through Libra and your intense 8th House of sex and other people's money, so things are bound to feel a little electric for better or for worse.
Throughout the day she will reach out across the sky and form a very intense square to Pluto in Capricorn and your outgoing 11th House of social groups and global communications, so there's a confused energy between wanting to go all-out and keeping your cards close to your chest.
The best way to handle this confusing transit is to take things one step at a time and listen to your inner voice; if someone is calling on your to do something that doesn't quite spark your interest, then feel free to say no and get back to the work in front of you.
Dec 03, 2023 - The Moon is in Leo and in your 6th house today, however it is also squaring Uranus in your 3rd house. This planetary aspect is highlighting that while yes it is of paramount importance to put your energy into the hard work that goes…
Dec 03, 2023 - How disciplined are you in the way you go about your work? Are you able to maintain the focus necessary to take care of and manage all the details that need tending to? These are all questions to ask yourself today as the Moon…
Dec 03, 2023 - This is a time when you are able to network with others and financial opportunities can come from the feelers you put out today. Take time today to concentrate on your current plans but be aware of being flexible for future ones. Fortune is…
Dec 03, 2023 - This transit can bring a focus on your relationships and partnerships. Consider having honest and open conversations with loved ones or doing something special for your significant other. Carrying or wearing a moonstone crystal can help enhance your emotional connection with others.
Dec 03, 2023 - Venus is moving through Libra and your intense 8th House of sex and eroticism, Pisces, so feel free to hang up the 'do not disturb' sign and disappear behind closed doors with someone special. This transit is always a great time to indulge your…
More Horoscopes for Pisces
When the 10 of Wands appears in a reading, the Tarot is sending the message that you are in the home stretch now. This card is much more optimistic than its symbolism appears. On the 10 of Wands, we see a lone figure carrying 10 wands on his own, plugging ahead on a long path…
Let These Tarot Readings Help Guide You Through Your Day
Daily Gemstone & Crystal Reading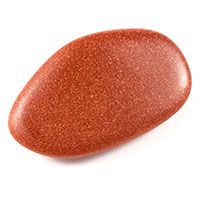 Red Goldstone is an uplifting crystal that can be used to find your positivity, become more confident, seek higher levels of calm, and can encourage us to be more ambitious and driven. The little flecks of gold throughout the crystal are symbolic of the "light" you may find when using…