Mar 24, 2023 - There's a certain crackle in the air, rather like that static buzz when there's a summer storm on the way. That's the nice thing about summer storms; unlike winter rain that makes you want to run inside, you can dance under a summer storm.
The air is hot and filled with electricity, and nothing but the most torrential downpour and the loudest claps of thunder would send you running for cover. If you're wondering why we're telling you this, it's because there is a summer storm on the way; can you feel it? You should be more aware of it than anyone else right now because the storm practically has your name on it. It's time to start thinking about how you'll want to run and dance and play in that wonderful warm rain.
Life is getting ready to bring you something major, and it wouldn't be surprising if all that rain gives life to some beautiful plants that will soon bear fruit.
Mar 24, 2023 - What is the nature of the dialogue between you and your romantic partners? Do you know how to communicate clearly and directly with one another in a way that enables there to be trust and transparency in your relationship? The Moon is in Taurus…
Mar 24, 2023 - How good are you at expressing your ideas to others? Do you feel skillful in your communication abilities at work? The Moon is in Taurus and in your 3rd house and these are all questions to meditate on. Communication can truly be everything sometimes.…
Mar 24, 2023 - This Moon calls you to analyze areas of your finances that you are able to improve on to make things easier for yourself. This means focusing on things you can change as opposed to things you cannot change. You may not be able to…
Mar 24, 2023 - A surge of energy helps you feel inspired today, Pisces, encouraging you to work hard and focus on projects that will bring you closer to your goals. Don't take this energy for granted, but rather, try to start the day with exercise to help…
Mar 24, 2023 - You've had to put your desires on the backburner for quite some time now, and it wouldn't be at all surprising if you're starting to feel more than a little burnt out on all the brass tacks and hard facts of life. Yes, you've…
More Horoscopes for Pisces
The Queen of Swords represents the highest embodiment in the female stature of the Air signs. She is likely an older woman that is a Gemini, Aquarius, or Libra, or may just be an older woman that prefers rational thought and logic over emotions. This woman is sitting on her throne and holding her sword…
Let These Tarot Readings Help Guide You Through Your Day
Daily Gemstone & Crystal Reading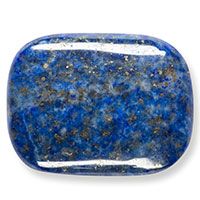 Lapis Lazuli has deep spiritual ties to royalty, wisdom, and truth. It is associated with royalty and other elements of leadership. It has been a well-respected stone since the time of the Ancient Egyptians, who believed this stone could work as a guide toward one's intended path. Additionally, Lapis Lazuli…