Capricorn Daily Horoscope

Mar 25, 2023 - It's time to partner up, Capricorn. You've been plugging away at your projects all by yourself for quite some time while motivator Mars has spent the last seven months moving through Gemini and your 6th House of work and routine, encouraging you to treat yourself like an efficient machine. That energy shifts today, however, as Mars moves on to Cancer and your 7th House of one-on-one relationships and legal contracts for the next month and a half.
This transit will see all kinds of potential partners emerge from the woodwork, and perhaps it'll help cement relations with people who have been hanging out in a confusing gray territory for some time now, but the important thing is to vet everyone and not jump the gun.
Mars can make us behave a little rashly so the last thing you want to do is sign on the dotted line with a business partner who turns out to be bad news because you didn't bother to read either the fine print or simply between the lines.
Mar 25, 2023 - Are you willing to do the necessary work that a relationship requires in order to actually thrive and succeed? The Moon is in Gemini and in your 6th house. People quite often want relationships to be easy and go smoothly without actually having the…
Mar 25, 2023 - Discipline is discipleship, this means that discipline isn't thinking "oh, I hate doing this but I have to do it anyway." It means knowing that you're doing what you're doing because it is paving the way for you to accomplish what you want to.…
Mar 25, 2023 - It is time to think of how your financial aspirations affect your closest relationships, Capricorn. There may be a need for deep and intense conversations about finances today. This is encouraged as practical solutions can be found under this Moon. Think in the long-term,…
Mar 25, 2023 - As the Moon moves through Taurus, you may feel more stubborn and determined than usual. Use this time to focus on completing tasks and staying on track. This is a great time to tackle projects that require attention to detail. The stone citrine can…
Mar 25, 2023 - It's time to get back to the people in your life, Capricorn. For the last seven months motivator Mars has been working his way through mercurial Gemini and your systematic 6th House of work and routine, and while he's been occupying this sector of…
More Horoscopes for Capricorn
You are looking for or needing harmony and balance in a situation when the Temperance card appears. But this is not a negative connotation. The Temperance card appears in the Tarot after The Death card, and this is sending us the call for balance and peace after a stressful situation. In most cases, the balance…
Let These Tarot Readings Help Guide You Through Your Day
Daily Gemstone & Crystal Reading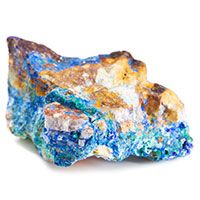 Azurite is known to help when we are dealing with emotional issues, confidence, and the feeling of impatience. Sometimes we lose touch with our ability to be kind and to feel comfortable within our own skin or within our surroundings. Sagittarius and Aquarius can feel particularly left out from time…