Capricorn Daily Horoscope

Dec 01, 2022 - The mood starts off light today, Cap, and you'll feel right in your element as the Moon zips through your outgoing 3rd House of local community and communications. This is normally a great time to be a social butterfly and meet lots of people in hopes of strengthening your network, but that energy is a little bit frazzled right now thanks to an alignment in the heavens overhead.
Throughout the day la Luna will form a tense square to luxury-loving Venus in Sagittarius and your 12th House of the subconscious, so even if you think you're in the mindset to go out and tackle the world, you might find yourself a little unsure of which way to go once you get out there. Don't push yourself too far afield, but don't be scared to do a little digging; you might come up with a few nuggets of intellectual gold.
Dec 01, 2022 - What is the nature of the dialogue between you and your romantic partners? Do you know how to communicate clearly and directly with one another in a way that enables there to be trust and transparency in your relationship? The Moon is in Pisces…
Dec 01, 2022 - How good are you at expressing your ideas to others? Do you feel skillful in your communication abilities at work? The Moon is in Pisces and in your 3rd house and these are all questions to meditate on. Communication can truly be everything sometimes.…
Dec 01, 2022 - This is a fortunate day for you, Capricorn, especially as there is good energy in the air for getting things accomplished at this time. This is a great time to think of new and inventive ways to deal with your finances. Let your creativity…
Dec 01, 2022 - Today you may be feeling more emotional than usual, Aries, and there may be issues that come to the surface which cause you to stop and reflect, Capricorn. You may find yourself delving deep into your emotional world, which may be a little frightening,…
Dec 01, 2022 - Your social life is probably going to be rather busy right now what with the Moon moving through Pisces and your buzzy 3rd House of local communities and close friends. This tour is really much more about platonic relationships than romantic or sexual ones, but…
More Horoscopes for Capricorn
It's always a wonderful sign when the Ace of Cups appears in a Tarot reading, especially if that reading is asking a simple Yes or No question. The answer, in this case, is most definitely a YES, and the Ace of Cups brings with it an offering of love. This is a loving card to…
Let These Tarot Readings Help Guide You Through Your Day
Daily Gemstone & Crystal Reading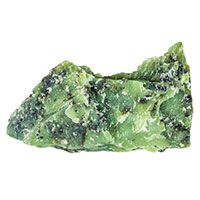 The Serpentine crystal (also called New Jade) can be soothing when we are struggling to overcome feelings of anger or irritability. This stone can help us reset ourselves, find abundance, and manifest healing energy. For energetic Gemini, a sign that needs its good humor and to get others on their…