Capricorn Daily Horoscope

Dec 05, 2022 - This could be a really exciting and wonderful day for you, Capricorn, so don't hold back when it comes to enjoying life, although perhaps it wouldn't hurt to be a little circumspect in your behavior because you could be a liiiiiittle more carefree with it than usual.
The Moon is moving through Taurus and your expressive 5th House of creativity and fun, so you're hardly in the mood to spend the day puttering around the house seeing to mundane affairs. Get out there and brunch, bar hop, beach hop… whatever floats your boat! Just know that the planets are more than prepared to send you a surprise thanks to the fact that the Moon will align at the same degree as Uranus, the planet of shock and rebellion.
This angle isn't a bad one, per se, but it's not inherently good either, it's just… surprising. You can't control everything, but you can control how you respond to things, so stick to your guns and maintain that level head.
Dec 05, 2022 - This is a great time to allow yourself to just enjoy yourself in your romantic partnerships and have some fun! The Moon is in Taurus and in your 5th house of romance. How are you at allowing yourself to just experience pleasure and fun…
Dec 05, 2022 - Do you experience joy and pleasure at your job? Do you feel inspired doing what you do? As the Moon is in Taurus and in your 5th house of creative self-expression, these are relevant topics to meditate on. It is crucial that you find…
Dec 05, 2022 - There is some great energy in the air to get things done, Capricorn, so don't waste the opportunities of the day! There is a time for relaxing and a time for action, and when you are able to bring the two together, you can…
Dec 05, 2022 - You may receive flashes of insight today, Capricorn, so pay attention to the thoughts that run through your mind. Writing your thoughts and ideas down will make sure that you don't lose them. Start the day with positive affirmations to clear your energy and…
Dec 05, 2022 - This could turn out to be a wonderfully romantic and exciting day, Capricorn, and the wonderful thing is whatever happens is going to come quite out of the blue, so get ready! The Moon is moving through Taurus and your 5th House of self-expression…
More Horoscopes for Capricorn
Let These Tarot Readings Help Guide You Through Your Day
Daily Gemstone & Crystal Reading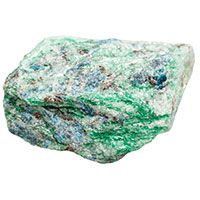 Fuchsite is often associated with healing, loving energy due to this green hue and its ties to the Heart chakra. This crystal allows us to find our inner light and release negative emotional energy, which allows those who use it to become more compassionate and forgiving in our relationships. Due…