Mar 25, 2023 - Life is about to feel much, much wider, Scorpio. For the last seven months energetic Mars has been touring mercurial Gemini and your intense 8th House of sex, money, and secrecy. It's safe to say this is one of the most trying and exhausting transits in astrology because it tends to put more stress on those areas than we'd like, especially, in this case, as it pertains to finances.
Today, however, there is a huge shift in the vibrations overhead as Mars leaps out of Gemini and jumps headfirst into Cancer and your entrepreneurial 9th House of foreign cultures and boundless horizons. From now on for the next eight weeks no idea is too grand, no concept too farfetched; try and explore as many options as possible because I can guarantee at least one of them will be worth their weight in gold.
Go forth and see what you can manifest!
Mar 25, 2023 - What are the things that you are fearful about in your romantic partnerships, those things that tend to cause you more mental anguish than most things? The Moon is in Gemini and in your 8th house. It is crucial that you ask yourself that…
Mar 25, 2023 - What is the current nature and condition of your joint financial partnerships and investments? The Moon is in Gemini today and in your 8th house, and it is asking you to reflect just on that. Do your investments give you back as much as…
Mar 25, 2023 - This is a great time to merge your financial and spiritual worlds together, Scorpio. Are you living in accordance with your soul purpose? Do you feel that your financial goals are in line with your spiritual aspirations? Great contemplation is on the agenda today…
Mar 25, 2023 - You may find yourself feeling more grounded and practical during this time. This is a good opportunity to focus on your finances and budgeting. Consider creating a plan for your financial goals and make sure to stick to it. The stone tiger's eye can…
Mar 25, 2023 - Have things been rather intense lately, Scorpio? It wouldn't come off as at all shocking if they had since you've been hosting energetic Mars in your 8th House of sex and intimacy for the last seven months, which is hardly a subtle transit. Mars…
More Horoscopes for Scorpio
You are looking for or needing harmony and balance in a situation when the Temperance card appears. But this is not a negative connotation. The Temperance card appears in the Tarot after The Death card, and this is sending us the call for balance and peace after a stressful situation. In most cases, the balance…
Let These Tarot Readings Help Guide You Through Your Day
Daily Gemstone & Crystal Reading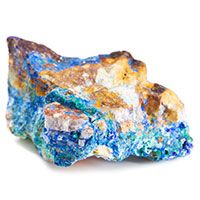 Azurite is known to help when we are dealing with emotional issues, confidence, and the feeling of impatience. Sometimes we lose touch with our ability to be kind and to feel comfortable within our own skin or within our surroundings. Sagittarius and Aquarius can feel particularly left out from time…