Dec 05, 2022 - Treat people with caution today, Scorpio, because it looks like someone in your orbit could combust when you least expect it; then again, they could wind up being the ace in the hole you never knew you needed, so anything is possible.
The intuitive Moon is moving through Taurus and your 7th House of partnerships and legal contracts, so you're trying to get an even lay of the land. Unfortunately it will be all but impossible to gain clarity when the Moon aligns at the same degree as Uranus, the planet of surprise, in this same sector of your chart.
It's impossible to tell what Uranus will send your way when it comes into aspect like this, so simply do your best to be aware of everyone else's motives as you interact with them today; don't let anyone hoodwink you but don't be so suspicious you treat others weirdly. Someone with serious partner potential could come your way, so have an open mind.
Dec 05, 2022 - Is it easy for you to be in relationship to others? Are you skilled in your diplomacy skills that are a necessary pillar in any healthy relationship? The Moon is in Taurus and in your 7th house. It is important that you know how…
Dec 05, 2022 - Do you feel satisfied within your partnerships at work? Is there an element of mutuality and trust in those connections of yours? These are pertinent questions to reflect on today as the Moon is in Taurus and in your 7th house of business partnerships.…
Dec 05, 2022 - This is likely to be a thoughtful and reflective day for you as Full Moon energy is on the way, Scorpio. Don't be surprised if your intuition is stronger or you find yourself thinking about the future in new and inventive ways. When you…
Dec 05, 2022 - You might feel like spending time at home today, Scorpio, enjoying your favorite self-care activities. This can be a great day for emotional healing as long as you don't ignore your feelings. Try writing your emotions down to acknowledge and release them. Chalcedony is…
Dec 05, 2022 - Things could go from zero to sixty with someone special today, Scorpio, so be aware that at least one relationship in your life could see a major shift of momentum. The Moon is moving through sensual Taurus and your 7th House of romantic partnerships…
More Horoscopes for Scorpio
Let These Tarot Readings Help Guide You Through Your Day
Daily Gemstone & Crystal Reading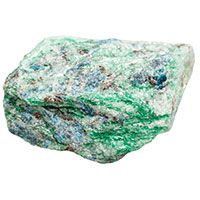 Fuchsite is often associated with healing, loving energy due to this green hue and its ties to the Heart chakra. This crystal allows us to find our inner light and release negative emotional energy, which allows those who use it to become more compassionate and forgiving in our relationships. Due…