Mar 29, 2023 - Life might feel like a bit of a war zone today, but before you start throwing grenades of your own be sure to consider the consequences. The Moon is currently touring your live-out-loud, no-holds-barred 9th House, which means keeping your mouth shut might be a bit more difficult than normal.
While you can often work magic with your words, today el Sol is forming a tense square to expansive Jupiter in your 6th House of work and routine. Your coworkers might normally love hearing your wild stories, but today don't be surprised if they're a little short on patience if you try to take over the meeting.
Even if you're just trying to get things done, you might feel like there's no right way to go about things and you can't help but ruffle every feather. Don't worry, this is just temporary; give it a few days and you'll be back to the consummate professional you know you can be.
Mar 29, 2023 - Do your romantic relationships provide your life with a sense of meaning? Do you feel spiritually fulfilled through them? The Moon is in Cancer and in your 9th house and is inviting you to reflect on these questions. Relationships are so much stronger when…
Mar 29, 2023 - The Moon is in Cancer today and in your 9th house. Do you feel spiritually fulfilled at what you do? Does it connect you to something bigger than you? Does it provide your life with meaning? These are all relevant questions to reflect on…
Mar 29, 2023 - This is a positive day for you to focus on your relationship with money, Scorpio. You may be feeling especially grounded today and it's a great time to focus on new plans and new endeavors that can help you to generate greater income in…
Mar 29, 2023 - This is a time to take action on your goals and ambitions, Scorpio. Consider setting specific intentions and creating a plan of action to achieve them. Connect with the transformative energy of obsidian by carrying a piece with you or meditating with it. Obsidian…
Mar 29, 2023 - Today the intuitive Moon is illuminating your health & wellness sector, so how about taking that energy and letting your inner warrior out to play? Normally I would recommend hitting up a group workout class, SoulCycle or CrossFit or whatever floats your boat, but…
More Horoscopes for Scorpio
The 10 of Cups is a wonderful card to see in any reading, and when it shows up in your day, you are being given a message of pure love. For Yes/No questions today, the answer this loving card brings is an absolute YES. You are going to get what you want, and then some.…
Let These Tarot Readings Help Guide You Through Your Day
Daily Gemstone & Crystal Reading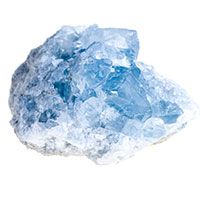 Celestite is a deeply spiritual crystal that helps to connect us to divine wisdom and supernatural forces within the cosmos. This is a crystal to use when you are strengthening your spiritual abilities. It is also a wonderful crystal for those exploring their clairvoyant or psychic abilities. It promotes inner…