May 29, 2023 - Your career is on an upward trajectory today what with action planet Mars moving through Leo and your 10th House of professional progress and ambition, and during this transit you could receive an extra injection of inspired success from out of the blue.
The intuitive Moon, currently floating through your dreamy 12th House of the subconscious realm, will form a friendly beam Mars, turning you into a lightning rod for recognition from unexpected places. If it feels like you've been putting in more effort without getting more money for your time that could change today and you'll be pleasantly surprised with the results, and you can be sure that any talks will go in your favor on a day like today.
Ask for what you want, and the Universe will do what it can to provide.
May 29, 2023 - What are the things that you keep hidden from your partner? More importantly, ask yourself why it is that you hide those things from them? These are all relevant questions to contemplate today as the Moon is in Libra and in your 12th house.…
May 29, 2023 - The Moon is in Libra and in your 12th house today. You are being asked to review any hidden aspects of your job. Are there any unconscious negative feelings that you have about your work? Ask yourself what those are and identify how you…
May 29, 2023 - What changes can you make to your finances at this time? Budgeting is on the agenda today especially as you may receive some news that requires it. You may need to change things up a bit so don't get too fixed on the plans…
May 29, 2023 - Don't overlook your creative thoughts and ideas today, Scorpio, because you may come up with some new perspectives and intuitive understandings. Try to connect to your center of wisdom through meditation and yoga. These activities will help you connect more deeply to your spirit.…
May 29, 2023 - There is some very positive energy overhead in the heavens today, and while that doesn't necessarily point to any sexual adventures let's take a closer look and see what we can do. Action planet Mars is currently in Leo and your ambitious 10th House…
More Horoscopes for Scorpio
The symbolism in the 3 of Swords is very raw and real. When life brings heartbreak, the Tarot offers the 3 of Swords. This can be heartbreak over any situation, romantic, or just a life experience that has caused some very real pain. Here is a heart that has been pierced by 3 swords. In…
Let These Tarot Readings Help Guide You Through Your Day
Daily Gemstone & Crystal Reading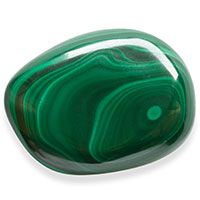 Malachite is most beloved for its healing properties and confidence-boosting reputation. Malachite offers protective and healing qualities, amplifying any change we wish to make in our lives.  This particular crystal is helpful for the intense signs of Scorpio and Capricorn who benefit from personal exploration.  Its primary chakra is our…