Scorpio Daily Horoscope: Tomorrow

Mar 26, 2023 - Few signs can pull off the impressive efficiency with which you go through life, Scorpio, but many signs are very impressed with you for managing to keep your cool at even the worst of times. Today isn't going to be the worst of times, so don't worry about that, but you still will be in a place to remind people just how efficient and effective you can be when you're in your element.
The Sun is traveling through Aries and your 6th House of work and routine so you're right at home under today's vibrations. El Sol will reach out across the sky to the intuitive Moon for much of the day, amping up your urge to show the world what you can do. Since the Moon is currently in Gemini and your 8th House of lump sums, it wouldn't be all that surprising if whatever job you're occupied with could pay off handsomely in the long term.
Roll up your sleeves and show 'em how it's done.
Mar 26, 2023 - Is it easy for you to experience intimacy with your romantic partner? What are the things that scare you the most in your partnership that may be preventing you from experiencing as much closeness and depth with your lover? Ask yourself these important questions…
Mar 26, 2023 - The Moon is in Gemini today and in your 8th house of joint financial partnerships and investments. Are your connections with those you're in partnership with providing you with as much profit as the resources you're putting into them? Do you trust those whom…
Mar 26, 2023 - Opportunities are abundant now. This Moon encourages you to deal with all practical matters of finance. Take time to go through your finances and understand them fully. Be open to welcoming abundance and receiving alternative or new avenues of income. How can you use…
Mar 26, 2023 - This is a great time to explore your innermost thoughts and feelings, Scorpio. Engage in introspective activities like journaling or meditation to gain insight into your emotional world. Selenite is a crystal that can help facilitate this process by clearing your mind of clutter…
Mar 26, 2023 - There's an interesting combination of planets and energies at work overhead today, Scorpio, and while it looks like you can certainly enjoy some bedroom Olympics if you want, I wouldn't be entirely surprised if you manage to come up with a laundry list of…
More Horoscopes for Scorpio
You are looking for or needing harmony and balance in a situation when the Temperance card appears. But this is not a negative connotation. The Temperance card appears in the Tarot after The Death card, and this is sending us the call for balance and peace after a stressful situation. In most cases, the balance…
Let These Tarot Readings Help Guide You Through Your Day
Daily Gemstone & Crystal Reading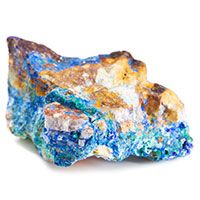 Azurite is known to help when we are dealing with emotional issues, confidence, and the feeling of impatience. Sometimes we lose touch with our ability to be kind and to feel comfortable within our own skin or within our surroundings. Sagittarius and Aquarius can feel particularly left out from time…