Scorpio Daily Horoscope: Tomorrow

Dec 06, 2022 - The week practically just started and yet the stars are giving you the day off from work to focus on other aspects of your life. Yes, you love being on top of your self more than most other signs, but you don't need to let it rule your life, or at least let the pursuit of it shove your desires onto the backburner.
The emotional Moon is moving through Gemini and your sensual 8th House of sex and intimacy, so even if you're trying to put your nose to the grindstone certain more, uh, pressing matters might call for your attention. If you can't ignore the sexts blowing up your phone feel free to answer; there's no need to ignore when you can get back to work come tomorrow.
Enjoy today for what it is; you've always been better than most at enjoying yourself so there isn't any reason why today should be any different.
Dec 06, 2022 - The Moon is in Taurus and in your 7th house of partnership today, however it is also trining Pluto in your 3rd house of communication. This is emphasizing the necessity of having honest, open and clear lines of communication open with your partner in…
Dec 06, 2022 - Bring your attention to your business partnerships. What's the nature of your relationships with those whom you work with? Today the Moon is in Taurus and in your 7th house. Can you afford to compromise more in your interactions with others? A necessary ingredient…
Dec 06, 2022 - To go out and play or get down to work? There is going to be a bit of conflicting energy in the stars overhead so it wouldn't be all that surprising if you find yourself trying to straddle these two options. The primal Sun…
Dec 06, 2022 - You may experience intense or passionate energy today, Scorpio. This energy might urge you to take risks, but it's much better to think about your plan before acting. Writing your thoughts and ideas down can help you sort through them and encourage balance within…
Dec 06, 2022 - This isn't going to be a simple and quiet day from the look of things, Scorpio, so if you were expecting something along those lines then you will be rather surprised to find the stars have something else in mind for you. The intuitive…
More Horoscopes for Scorpio
Let These Tarot Readings Help Guide You Through Your Day
Daily Gemstone & Crystal Reading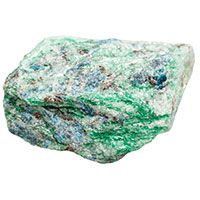 Fuchsite is often associated with healing, loving energy due to this green hue and its ties to the Heart chakra. This crystal allows us to find our inner light and release negative emotional energy, which allows those who use it to become more compassionate and forgiving in our relationships. Due…