Scorpio Daily Horoscope: Tomorrow

Oct 01, 2023 - This is the kind of day when the stars want you to rely on the people in your life to make progress. That's not to say you should expect them to do all the work because you absolutely shouldn't, but out of all the signs you can be the most prone to going it alone as often as you like to pair up.
Well, regardless of whether you fit the bill or not, be sure to partner up because that's where the stars are pointing if you want to find success. Thanks to the intuitive Moon moving through your 7th House of partnerships this shouldn't be too difficult and it shouldn't be too hard to find someone willing to form a dynamic duo.
Just in case you had any lingering fears know that today the Moon will form a conjunct the powerful planet of good fortune, Jupiter, currently hanging out in this same sector of your chart, so any energy you invest is sure to reap strong rewards down the line.
Oct 01, 2023 - Do you have an easy time compromising in your romantic partnerships? How much do you allow yourself to bring yourself in relationships and how much do you allow them to do the same? These are relevant questions to think about today the Moon is…
Oct 01, 2023 - Do you feel satisfied within your partnerships at work? Is there an element of mutuality and trust in those connections of yours? These are pertinent questions to reflect on today as the Moon is in Taurus and in your 7th house of business partnerships.…
Oct 01, 2023 - Under this lunar energy, this is a great time to branch out and talk to others about your financial ideas and aspiration. You may find yourself keen to get an idea moving along, one which is full of creativity and motivation. This can be…
Oct 01, 2023 - The Taurus energy of this Moon phase may inspire you to focus on your creativity and self-expression, dear Scorpio. This is an excellent time to explore your artistic side and try out new hobbies or projects. To enhance your creative flow and inspiration, try…
Oct 01, 2023 - This is going to be an incredibly lovely day, so please don't be stupid and waste this rare energy because the planets are coming together in such a way that I can't help but know you'll enjoy yourself if you just…well, it really shouldn't…
More Horoscopes for Scorpio
Knights in the Tarot represent figures that are usually over the age of 25, but younger than 35 or 40. The swords in the Tarot represent the Air element, and so this Knight usually represents a younger member of the Geminis, Librans, or Aquarians that you know. At the same time,knights also represent deliveries sometimes,…
Let These Tarot Readings Help Guide You Through Your Day
Daily Gemstone & Crystal Reading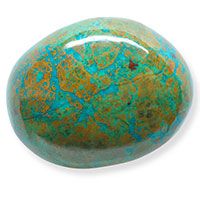 Soothing Chrysocolla has a calming effect that can assist in aura cleansing, give support to find acceptance, and help recovery from feelings of guilt, anger, and fear. If we have been hiding something, Chrysocolla encourages us to be more honest. This crystal also is helpful when healing the Throat chakra…