Dec 05, 2022 - Umm, did someone say something? No? Are you hearing things? Who knows! Under today's stars you could feel a little out of it, but honestly just go with it because while you're bouncing around in the blue you could hit upon a million dollar idea in the process.
The intuitive Moon is traveling through Taurus and your 12th House of the subconscious, and while she's there she'll align at the exact same degree as revolutionary Uranus, giving your mind all the edge of a mad scientist (not that kind of mad) so don't get bogged down in what works and what doesn't–the more unusual the idea the better off you'll be under today's stars.
Take a leap of faith and let the wind carry you wherever it may, because from the look of things it could sweep you somewhere far over the rainbow to a waiting pot of gold on the other side.
Dec 05, 2022 - Today is the perfect day for you to communicate those feelings that you generally don't feel comfortable sharing with your partner. The Moon is in Taurus and in your 12th house. True connection is not possible if you are not willing to share your…
Dec 05, 2022 - The Moon is in Taurus and in your 12th house today. You are being asked to review any hidden aspects of your job. Are there any unconscious negative feelings that you have about your work? Ask yourself what those are and identify how you…
Dec 05, 2022 - Full Moon energy appears in a few days and you can already feel the effects of it, Gemini. It encourages you to pay attention to your inner wisdom! Be sure to take the time to assess your financial situation. The universal energies are going…
Dec 05, 2022 - It might feel harder for you to get along with others today, Gemini. This is the day to look for balancing, relaxing activities that will encourage compassion and unconditional love. Balancing the chakras, focusing on the Heart chakra, is particularly useful today. Clear quartz…
Dec 05, 2022 - Things could feel a little bit off today, Gemini, but that doesn't have to be a bad thing at all so keep your mind open and see where the day takes you. The intuitive Moon is moving through Taurus and your dreamy 12th House…
More Horoscopes for Gemini
Let These Tarot Readings Help Guide You Through Your Day
Daily Gemstone & Crystal Reading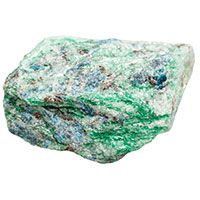 Fuchsite is often associated with healing, loving energy due to this green hue and its ties to the Heart chakra. This crystal allows us to find our inner light and release negative emotional energy, which allows those who use it to become more compassionate and forgiving in our relationships. Due…