Gemini Daily Horoscope: Tomorrow

Dec 06, 2022 - Whether or not you've got work in front of you on this particular Tuesday, Gemini, you should really try to make it count, because you're going to be lit up like a star. The intuitive Moon spends the day leaving slow and steady Taurus and your sleepy 12th House of the subconscious, and moves into your sign and your 1st House of self-expression, imbuing you with all her special gifts.
When you host la Luna in your sign it helps you get in better touch with what you need on a soul level so take some time today and ask yourself what you really want and how you can go about achieving it.  Your ruler, Mercury, will be receiving a special beam from la Luna later that will also lock in another loose angle with pleasure-loving Venus.
There is a lot of pleasure coming your way, so go forth and enjoy regardless of whatever tasks you might have in front of you.
Dec 06, 2022 - The Moon is in Taurus and in your 12th house today, however it is also trining Pluto in your 8th house. There is a direct and proportional correlation between the level of intimacy we are able to experience with ourselves and other people. In…
Dec 06, 2022 - The Moon is in Taurus today and in your 12th house. This brings the focus to any hidden, negative feelings you have about your work that could be compromising your potential for success. Do you allow yourself to see the things that you don't…
Dec 06, 2022 - You're very focused today, Gemini, which is wonderful and can lead to financial productivity further down the line. At the same time, it is important to maintain inner balance. The Moon is in Virgo and encouraging you to pay attention to your internal needs.…
Dec 06, 2022 - This planetary influence may encourage the desire for competition, Gemini. You wish to assert yourself against forces that feel oppressive, but you may come across as aggressive in doing so. Try crystal healing and chakra work to help you feel more patient and understanding.…
Dec 06, 2022 - The emotional Moon is spending the day moving out of Taurus and your dreamy 12th House and into Gemini and your 1st House of self-expression and action, so don't be surprised if you've got a major case of the feels. That's not to say…
More Horoscopes for Gemini
Let These Tarot Readings Help Guide You Through Your Day
Daily Gemstone & Crystal Reading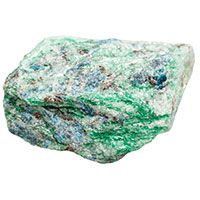 Fuchsite is often associated with healing, loving energy due to this green hue and its ties to the Heart chakra. This crystal allows us to find our inner light and release negative emotional energy, which allows those who use it to become more compassionate and forgiving in our relationships. Due…