Gemini Daily Horoscope: Tomorrow

Mar 31, 2023 - The people in your life will be playing a major role today, and that role could very well have important and attractive strings attached so keep that in mind as you move forward right now. The Moon is moving through Leo and your buzzy 3rd House of local community and communications, and while she's there she'll be reaching out across the heavens to the primal Sun in your 11th House of groups, turning your attention upwards and outwards.
With these planetary power-players on the field anything could happen today, but you can be sure it will have lasting consequences. If the opportunity to partner up with a colleague comes your way definitely do not turn it down as it will surely benefit you for a long time to come; the same is true of any contracts in front of you at the moment. Take your time but know the Universe is sending you these opportunities for a reason.
Mar 31, 2023 - What is the nature of the dialogue between you and your romantic partners? Do you know how to communicate clearly and directly with one another in a way that enables there to be trust and transparency in your relationship? The Moon is in Leo…
Mar 31, 2023 - The Moon is in Leo and in your 3rd house of communications today. How skillful are you in expressing your thoughts and ideas in a clear fashion? If you feel like you could afford to hone that ability of yours, this would be the…
Mar 31, 2023 - This is a powerful time of reflection, Gemini, and with this lunar energy you are feeling more willing to express yourself. The more you open up to yourself with the feelings, the better you will feel overall. Where is your heart guiding you?  Your…
Mar 31, 2023 - During this Moon in Leo, you may feel a strong urge to connect with others and engage in social activities, Gemini. Allow yourself to let loose and have fun, whether it's through dancing, attending a concert, or simply spending time with loved ones. Carry…
Mar 31, 2023 - This could be an especially romantic day for you and a partner, but don't sit back on your laurels and expect things to just come together because you want them to; you've got to make things happen! The Moon is moving through Leo and…
More Horoscopes for Gemini
It's a new day! Literally, in some cases, when The Sun card arrives. But The Sun also represents a new day in your situation you are asking the Tarot about today. Major Arcana cards can be quite ambiguous when it comes to timing, and generally, the meaning of time when Major Arcana cards arrive is…
Let These Tarot Readings Help Guide You Through Your Day
Daily Gemstone & Crystal Reading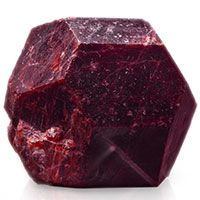 Garnet promotes love and attracts romance, making it an excellent stone to work with for anyone looking to increase the love in their life. This crystal is particularly helpful for those under the signs of Leo, Virgo, Capricorn, and Aquarius, all signs where loyalty is of the utmost importance. Garnet's…