Gemini Health Horoscope: Yesterday

Jun 02, 2023 - You may be feeling more curious and intellectually stimulated than usual this week, Gemini. Use this energy to learn something new or explore a new hobby.
Try doing some mental exercises, like crossword puzzles or brain teasers, to help keep your mind sharp. Carry or wear Amethyst to help you connect with your intuition and inner wisdom.
Eating foods that are high in Omega-3 fatty acids, like salmon and walnuts, will help support your brain health.
More Horoscopes for Gemini
The King of Swords is not the guy you want to be on the wrong side of, but if you have his loyalty or appreciation, he's a good guy to have on your team. Often considered the highest leader of the court cards, he mixes the Fire element with his King status and the Air…
Let These Tarot Readings Help Guide You Through Your Day
Daily Gemstone & Crystal Reading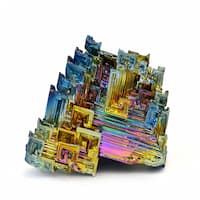 Bismuth is a beautiful multi-colored crystal that helps support transformation within the individual and brings a greater sense of confidence when working towards your hopes and dreams. It is especially helpful for teamwork and helps to relieve feelings of loneliness or being isolated. Bismuth is a Storm crystal and vibrates…