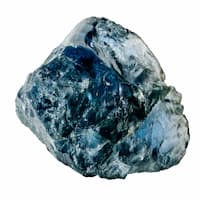 Affirmation(s): "I trust in the wisdom that lies within me."
Sapphire is also known as the wisdom stone, promoting wisdom, truth, and harmony within the individual.
It helps restore a balance between the physical, mental, and spiritual planes and enables us to access wisdom and knowledge from our higher selves.
This crystal brings prosperity and spiritual wealth to the user and is crucial for those on a spiritual journey.
Sapphire is a Water crystal and vibrates with the energy of Libra and Virgo.
There are various colored Sapphires, but the primary Sapphire, the blue Sapphire, relates to the Throat chakra and helps you speak your truth with wisdom and clarity.
As Sapphire relates to the Throat chakra, wearing it around the neck as a pendant can help you speak what lies within you.
For writers, Sapphire worn as a bracelet or ring helps to write with greater clarity.