Dec 10, 2022 - Don't force anything today, Aries; in fact, why not take time off from the grind to give yourself some rest and tend to other matters that don't bring about burnout?
The intuitive Moon is sailing through Cancer and your foundational 4th House, so today is the perfect time to focus in on your emotional needs and tend to them so that you can be on top of your A game when the Moon moves into more productive realms in a few days' time. You might as well make a point to enjoy this low-key energy before the universe sends you off on a whole new tour up life's great ladder.
Yes, I know how capable you are but sometimes even someone as on top of life as yourself needs time away to recharge their batters. Rest and relaxation are key right now.
Dec 10, 2022 - Sometimes it is ok to just stay at home and cuddle with your loved one. The Moon is in Cancer and in your 4th house. It is highlighting the necessity of allowing yourself to do that. We are quite conditioned in our society to…
Dec 10, 2022 - How much do you rest? Do you allow yourself downtime to replenish your energy? These are good questions to ask yourself today as the Moon is in Cancer and in your 4th house. Do you get so caught up in working that you forget…
Dec 10, 2022 - The way you manage money may be coming into your mind, today, Aries, so it's time for some powerful thinking and even reconsideration. If you have struggled with financial losses, always keep your eye fixed on the bigger picture. The more you look at…
Dec 10, 2022 - Today's planetary influence helps you appreciate beauty in a proactive way by encouraging you to be creative, Aries. Don't shy away from projects that help you engage your creative, intuitive center. This is a great day for writing, drawing, or any form of creation.…
Dec 10, 2022 - This is going to be a rather quiet day for you, Aries, so take my word at face value when I say don't push anything. The intuitive Moon is sailing through Cancer and your foundational 4th House, so this is the perfect time to…
More Horoscopes for Aries
You are looking for or needing harmony and balance in a situation when the Temperance card appears. But this is not a negative connotation. The Temperance card appears in the Tarot after The Death card, and this is sending us the call for balance and peace after a stressful situation. In most cases, the balance…
Let These Tarot Readings Help Guide You Through Your Day
Daily Gemstone & Crystal Reading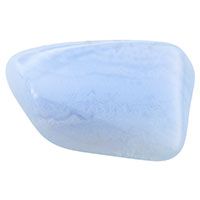 Blue Lace Agate assists with our ability to share and express. If you've been dealing with overwhelming feelings of anger, anxiety, or frustration and have been seeing increased conflict in multiple areas of your life, you might want to invest in this crystal. Its primary chakra is the Throat chakra,…