Sep 25, 2023 - This could be one of the most exciting days you've gotten to experience in a while, Sagittarius, which should be a wonderful thing since the planets have been hanging out in rather uninspiring sectors for you over the last month or so.
The intuitive Moon is moving through your outgoing 11th House of social groups and communications, and while she's here she'll be reaching out across the sky to sexy Mars and exciting Jupiter, and together they will cast a warm, rosy glow over the day.
This energy is about more than just having fun, though; these two planets are going to light a fire in your tank and inspire you to go-go-go, so don't sit back and wait for the world to come to you. Go out and get what you want.
Sep 25, 2023 - The Moon is in Aquarius and in your 11th house today. Do you have a sense of friendship in your intimate relationships? Do you feel that you and your partner aspire towards the same goals and ideals in your personal and joint lives? These…
Sep 25, 2023 - Community is such a determining factor of whether you experience joy or fulfillment at your job. The Moon is in Aquarius today and in your 11th house. This is highlighting the nature of your relationship to your coworkers. Do you have an easy time…
Sep 25, 2023 - Now is the time to take some time out and form a new plan when necessary. Take time to ground yourself today if possible as this enables you to view your financial situation with a clearer mind. You have the potential to explore new…
Sep 25, 2023 - You may feel a desire to connect with like-minded people and explore new social circles today, Aries. Consider engaging in activities that allow you to expand your network, such as attending a group event or taking a class. The crystal that can support you…
Sep 25, 2023 - This is going to be one of the most fun days you've had in some time, so be sure you don't waste this fabulous energy! The intuitive Moon is moving through your 11th House of social groups and global communications, so your attention is…
More Horoscopes for Aries
It's a new day! Literally, in some cases, when The Sun card arrives. But The Sun also represents a new day in your situation you are asking the Tarot about today. Major Arcana cards can be quite ambiguous when it comes to timing, and generally, the meaning of time when Major Arcana cards arrive is…
Let These Tarot Readings Help Guide You Through Your Day
Daily Gemstone & Crystal Reading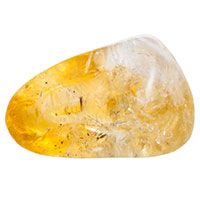 Citrine is a crystal that promotes optimism and positivity, making it one of the best crystals to use when protecting your aura and an excellent all-around stone to attract abundance to your life. Citrine is another form of Quartz, resonating with your inner child. Citrine is best when it is…