Dec 06, 2022 - You're going to be pretty busy today, Aries, and that's totally fine on any given Tuesday, so be ready to answer the phone when it rings because you're a hot commodity.
The intuitive Moon spends the day sailing out of hardworking Taurus and your grounded 2nd House of earned income and bouncing into mercurial Gemini and your buzzy 3rd House of communications and local communities, so chances are you could find plenty of things in your area to keep you busy.
With your ruler Mars currently retrograde in this same sign, you might feel a little low on energy, so perhaps these vibrations are a bit more than you were expecting, but the Moon will be looping in romantic Venus and cosmic communicator Mercury to bring in a few doses of positivity, so not all is lost. Things are shifting, but there isn't any reason you can't successfully shift with them.
Dec 06, 2022 - The Moon is in Taurus and in your 2nd house, however it is also trining Pluto in your 10th house today. A necessary part of any healthy, long-lasting and fulfilling relationship is having common values as those of your partner. This tends to be…
Dec 06, 2022 - What's your relationship to your finances? Are you making as much money as you would like to be? Ask yourself these questions today as the Moon is in Taurus and in your 2nd house of finances. Learn how to be balanced with your money.…
Dec 06, 2022 - There are some rather intense energies in the air today and you'll probably come across a few revelations in the very near future. This is the time to go inwards and concentrate on how your relationship with money makes you feel, Aries. The Moon…
Dec 06, 2022 - You may feel more opinionated than usual today, Aries, but it's important that you take a step back from politics or rigidly held philosophies. This planetary energy encourages you to see things from a new light today, so try meditation to keep your mind…
Dec 06, 2022 - The energy has a shifting vibration for you today, Aries, so don't be entirely surprised if you can't quite stick to one mood from morning to night. Throughout the day the intuitive Moon will be passing out of grounded Taurus and moving into mercurial…
More Horoscopes for Aries
The 2 of Swords has much different energy than the Ace that came before it. This is a card that shows that inaction may be the place you are in regarding a specific situation. You may be at a crossroads on the decision, as noted by the crossed swords in front of the figure in…
Let These Tarot Readings Help Guide You Through Your Day
Daily Gemstone & Crystal Reading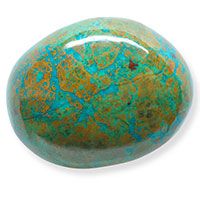 Soothing Chrysocolla has a calming effect that can assist in aura cleansing, give support to find acceptance, and help recovery from feelings of guilt, anger, and fear. If we have been hiding something, Chrysocolla encourages us to be more honest. This crystal also is helpful when healing the Throat chakra…