Aries Daily Horoscope: Tomorrow

Sep 26, 2023 - Listen to your intuition today, Aries, because it could lead you somewhere special. The Moon spends the day in Pisces and your dreamy 12th House of the subconscious, so you're more plugged in to the less obvious workings of the world right now, and I highly recommend making use of this almost psychic ability to help yourself get ahead.
Since completions are highlighted here why not dust off some old projects and see if they might be ready to cross the finish line? Take time to comb through these and ponder their worth, as well as your own. Ask yourself what you have to show off; something tells me it will be amazing and that the rest of the world will be only too happy to see what it is.
Sep 26, 2023 - Do you feel like you and your partner have a sense of friendship within your relationship? It's important that you have that be a foundation for your connection. The Moon is in Aquarius and in your 11th house and it is asking you to…
Sep 26, 2023 - Today is a good day to reflect on the nature of your work community. The Moon is in Aquarius and in your 11th house. How connected do you feel to those whom you work with? Do you have a sense of community in your…
Sep 26, 2023 - This lunar energy brings a new and vibrant energy that gives you the opportunity to make some more money. When you allow yourself to think outside the box, amazing opportunities open up. This is the power of this lunar energy. This is a new…
Sep 26, 2023 - Aries, you're feeling independent and rebellious today. This is a great time to take action and make a change that you've been considering. Remember to keep your actions and intentions aligned with your values to ensure that you're creating positive outcomes. Labradorite is a…
Sep 26, 2023 - Today could be one for the books, Aries, so get all your work done before EOD because tonight you'll want to follow your heart's desire and pursue nothing but pleasure. The Moon is in Pisces and your dreamy 12th House of the subconscious, so…
More Horoscopes for Aries
It's a new day! Literally, in some cases, when The Sun card arrives. But The Sun also represents a new day in your situation you are asking the Tarot about today. Major Arcana cards can be quite ambiguous when it comes to timing, and generally, the meaning of time when Major Arcana cards arrive is…
Let These Tarot Readings Help Guide You Through Your Day
Daily Gemstone & Crystal Reading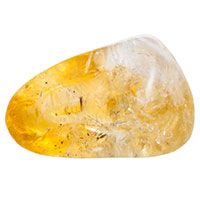 Citrine is a crystal that promotes optimism and positivity, making it one of the best crystals to use when protecting your aura and an excellent all-around stone to attract abundance to your life. Citrine is another form of Quartz, resonating with your inner child. Citrine is best when it is…