Aries Daily Horoscope: Tomorrow

Mar 30, 2023 - There's a rather confusing energy to the day, thanks to a strong opposition across your 'fun' sectors. The intuitive Moon is currently moving through your passionate 5th House of creativity and glamour, which is usually a love thing, but throughout the day she'll be in a tug-o-war with Pluto in your 11th House of social groups and hopes and dreams (yes, it really does rule your hopes and dreams).
This sector of your chart has hosted quite a bit of activity as of late, but today Pluto will be activated and you're going to find that no matter what work you might want to get done, people keep calling on you to come out and play. The planets want you to focus on you right now, so answer people's calls second.
Mar 30, 2023 - The Moon is in Cancer and in your 4th house today, however it is also trining Neptune in your 12th house. This configuration is highlighting the relationship between moving through your negative patterns in relationship, sitting with the natural discomfort that comes up with…
Mar 30, 2023 - How much do you rest? Do you allow yourself downtime to replenish your energy? These are good questions to ask yourself today as the Moon is in Cancer and in your 4th house. You may notice that you get so caught up in work…
Mar 30, 2023 - Some big news is on the way, Aries, and a change in direction can lead to some surprisingly productive things for you. If you have been struggling making financial decisions, today brings clearer energy and a sense that you can do anything! But it's…
Mar 30, 2023 - Begin by turning inwards, Aries. Take some time to reflect on your emotions and how they impact your actions. You may find it helpful to keep a journal or express yourself through art. For a calming influence, try meditating with blue lace agate, a…
Mar 30, 2023 - There's a bit of confusion happening in the heavens above. The intuitive Moon is currently moving through your passionate 5th House of romance and fun, orienting your focus towards instant gratification and pleasure. Unfortunately, la Luna will engage in a tug-o-war with a major…
More Horoscopes for Aries
The 10 of Cups is a wonderful card to see in any reading, and when it shows up in your day, you are being given a message of pure love. For Yes/No questions today, the answer this loving card brings is an absolute YES. You are going to get what you want, and then some.…
Let These Tarot Readings Help Guide You Through Your Day
Daily Gemstone & Crystal Reading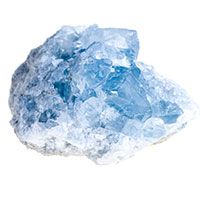 Celestite is a deeply spiritual crystal that helps to connect us to divine wisdom and supernatural forces within the cosmos. This is a crystal to use when you are strengthening your spiritual abilities. It is also a wonderful crystal for those exploring their clairvoyant or psychic abilities. It promotes inner…