Aries Money Horoscope: Yesterday

Jun 03, 2023 - The more you focus on your long-term plans, the easier you will find your endeavors in the coming future.
Things may be a little challenging right now but there are great things coming. Your hard work is paying off and there may be a few things to focus on that may be a bit challenging, but you know that it will lead you to a greater place.
Take time to unwind too. Don't place too much on your shoulders. Know when to relax and take some time out.
More Horoscopes for Aries
It's a new day and a new beginning when The Fool arrives in your Tarot reading. The Fool is the first card of the Tarot, and is noted by the number 0. This is the start of the Fool's adventure, and the rest of the cards are the experiences The Fool has while on his…
Let These Tarot Readings Help Guide You Through Your Day
Daily Gemstone & Crystal Reading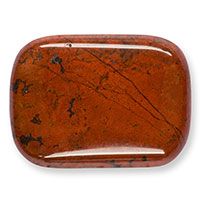 Red Jasper is a form of Quartz, and its energy radiates grounding, passion, and protection. Known as the "Stone of Endurance," it brings stamina, strength, and courage to the user. Warriors often sought it out in ancient times to encourage these traits on the battlefield.   Red Jasper is even thought…