For the Month of: December 2022
December - Welcome to December, beautiful Aries! The heart of the Sagittarius season and the final month of 2022 brings unexpected endings, revelations, and brand beginnings for the year ahead. Last month brought an intense Lunar eclipse in your income and values sector, followed by a Sagittarius New Moon inspiring lightheartedness, adventure, exploration, and fun. Astrological transits this month are ripe for change, encouraging you to keep doing what you are doing and trust yourself; it's leading toward success in multiple forms. 
On December 1, a Venus-Saturn sextile attracts new influences and sources of inspiration that will help you create a clear structure for the future. Currently, the Moon is waxing in your sign, and you may be a little more moody or sensitive than usual. However, you have the drive to get things done and accomplish many tasks. So don't go overboard and exhaust yourself!
Magical Neptune stations direct in its home sign of Pisces on December 3, ending a five-month retrograde period of coming to terms with reality. Neptune stirred up a ton of unconscious activity and put you in a reflective mood that deepened your faith and relationship with the universe. Now direct, you are motivated to let your intuition light the way forward.
Then, on December 6, chatty Mercury enters resourceful Capricorn, kicking up a conversation about your career, long-term goals, and public life. You are in for exciting opportunities to negotiate, plan, and create for the future. 
Expect conversations to climax with the Full Moon in Gemini on December 7, the final Full Moon of the year. Full Moons are magical phases in the Lunar cycle that highlight critical areas of your life, bringing your attention to what needs to be released and let go. As a result, information or essential news may surface, causing an unexpected breakthrough. In addition, the Sun opposes Mars, blazing egos, purpose, and sexual energies- expect changes in relationships, neighborhood, commute, and daily plans.
On December 9, sensual Venus enters Capricorn showering you with beauty and auspiciousness; it's a good time for professional gains and wins. However, you may reconsider what's truly important to you in your career and if your intimate relationships support your goals.
Then, Jupiter re-enters your sign right before Capricorn season begins on December 21.
The Sun in Capricorn marks the start of Winter Solstice in the Northern hemisphere. It's the perfect time to review how you plan for and invest in your future. Naturally, the focus will be on upgrading your status. However, this may mean changing your investing, saving, or budgeting approach.
Then, Chiron, the "Master Healer," stations direct your sign on December 23 during a New Moon in Capricorn, bringing prosperity to work, friendships, and romance. You should be proud of yourself. This year presented a series of highs and lows, which made you more confident and stronger than ever; you deserve to live an abundant and healthy life. So, use the energies of the New Moon to plant seeds for the upcoming month and year of abundance and growth.
Finally, the month ends with Mercury going retrograde in Capricorn during the First Quarter Moon in your sign.
Aries, your last task of the year is to stop pouring into draining spaces, projects, people, or places. Instead, it's time to gather your energies, prioritize, and organize. The next three weeks will be life-changing. A ton of exciting new love, money, career and spiritual abundance will come your way in 2023.
See you next year!
December's affirmation, "I use challenges to help me clarify what
I want to achieve in life. My life is worth fighting and committing for;
I embrace the year ahead, patient, and aligned with the right timing before taking action."
Make sure to check back every month to get your personalized astrological insight from our experts.
Want more information about your own personal astrology? Discover more about your zodiac sign, monthly transits, and your birth chart through our free resources.
Get Your Free Horoscopes Here
The Knight of Cups is always a welcome card in any reading, particularly in Tarot readings about love or romance. A wonderful invitation is on its way to you, or you may be the one receiving the invitation. This invitation may be anything from a new date if you are single, to a proposal if…
Let These Tarot Readings Help Guide You Through Your Day
Daily Gemstone & Crystal Reading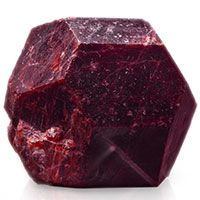 Garnet promotes love and attracts romance, making it an excellent stone to work with for anyone looking to increase the love in their life. This crystal is particularly helpful for those under the signs of Leo, Virgo, Capricorn, and Aquarius, all signs where loyalty is of the utmost importance. Garnet's…