Dec 01, 2022 - I bet things have really started to take off now that luxury-loving Venus is moving through Sagittarius and your 5th House of fun, romance, and creativity. Now you can look forward to good times ahead and enjoying life in a way you haven't in quite some time, because it's taken so long for the Goddess of Love to catch up to this fun-loving sector.
Today, however, there is one fly in the ointment as Venus forms a tense square to the intuitive Moon. La Luna is moving through Pisces and your intense 8th House of lump sums and other people's money, so despite the general buoyancy of life, today you're likely focused on issues of ownership and sharing, or perhaps you simply want to disappear from the world for a while; this sector rules our secrets so it wouldn't be surprising if you've got the urge to go poof like a cloud of smoke.
Do as you please; the energy is all over the place so you're not alone.
Dec 01, 2022 - What are the things that you are fearful about in your romantic partnerships, those things that tend to cause you more mental anguish than most things? The Moon is in Pisces and in your 8th house. It is crucial that you ask yourself that…
Dec 01, 2022 - The Moon is in Pisces today and in your 8th house of joint financial partnerships and investments. Are your connections with those you're in partnership with providing you with as much profit as the resources you're putting into them? Do you trust those whom…
Dec 01, 2022 - It is time to have a chat with those closest to you about financial issues, Leo. If you have been wanting to say something but have expressed reluctance to do so, then there is no better time to do it than today. Any challenging…
Dec 01, 2022 - You may seek knowledge today, Leo, desiring new forms of education. This is an excellent time to expand the mind and focus on the information you want to acquire in your life. Balancing the Crown chakra will help you feel more mental clarity and…
Dec 01, 2022 - The Moon is moving through Pisces and your intense 8th House of sex and intimacy, so your thoughts are likely percolating along some of the steamier aspects of life. You can sometimes play the wallflower, but even the most prudish of you will be…
It's always a wonderful sign when the Ace of Cups appears in a Tarot reading, especially if that reading is asking a simple Yes or No question. The answer, in this case, is most definitely a YES, and the Ace of Cups brings with it an offering of love. This is a loving card to…
Let These Tarot Readings Help Guide You Through Your Day
Daily Gemstone & Crystal Reading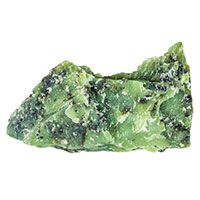 The Serpentine crystal (also called New Jade) can be soothing when we are struggling to overcome feelings of anger or irritability. This stone can help us reset ourselves, find abundance, and manifest healing energy. For energetic Gemini, a sign that needs its good humor and to get others on their…