Mar 29, 2023 - It's time for a check in, Leo. Have you been keeping an eye on every aspect or your life, or avoiding responsibility like the plague? As a sign of security, you're not normally one to act frivolously, but sometimes even you like to throw caution to the wind and live for the day.
Today, however, the planets encourage you to take stock and go over your life with a fine-tooth comb. Expansive Jupiter is currently moving through your truth-telling 9th House, while the Moon is moving through Cancer and your hidden 12th House, and today they'll be pinging off one another, ready to turn over every stone.
Instead of letting this transit take you by surprise, try and use it as a wake-up call to rein in your actions and make certain you're expending your energy in the most helpful ways possible.
Mar 29, 2023 - Today is the perfect day for you to communicate those feelings that you generally don't feel comfortable sharing with your partner. The Moon is in Cancer and in your 12th house. True connection is not possible if you are not willing to share your…
Mar 29, 2023 - The Moon is in Cancer today and in your 12th house. This brings the focus to any hidden, negative feelings you have about your work that could be compromising your potential for success. Do you allow yourself to see the things that you don't…
Mar 29, 2023 - This is a day to think about how your relationships with finances makes you feel, Leo. The lunar energy is encouraging you to be practical in your thinking. It's possible some worry concerns will come rising to the surface and generate some anxiety within…
Mar 29, 2023 - This is a time to take action and move forward with your goals, Leo. Try incorporating movement into your day, whether that means going for a run or dance class. Carry a piece of red jasper with you to help you stay grounded and…
Mar 29, 2023 - Have you been keeping your fire hidden from the world? With the Moon moving through your secretive 12th House you might feel as though your mojo has taken a temporary leave of absence, but today's stars call you on your bluff and remind you…
The 10 of Cups is a wonderful card to see in any reading, and when it shows up in your day, you are being given a message of pure love. For Yes/No questions today, the answer this loving card brings is an absolute YES. You are going to get what you want, and then some.…
Let These Tarot Readings Help Guide You Through Your Day
Daily Gemstone & Crystal Reading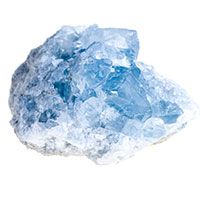 Celestite is a deeply spiritual crystal that helps to connect us to divine wisdom and supernatural forces within the cosmos. This is a crystal to use when you are strengthening your spiritual abilities. It is also a wonderful crystal for those exploring their clairvoyant or psychic abilities. It promotes inner…