Dec 05, 2022 - It's Monday and you may or may not have work to tend to, Leo, but let me tell you that there is a special spark in the air today which could lead you down an entirely different path than the one you were expecting, and this path could lead you somewhere very rewarding.
The intuitive Moon is moving through Taurus and your 10th House of professional goals and long-term achievements, so you're more than ready to get out of bed and make things happen, even if you have nowhere to be and nothing to do. Throughout the day la Luna will align at the same degree as Uranus, the planet of surprise, so it looks like an opportunity could pop up when you least expect it.
Don't turn away just because you're not in the mood to roll up your sleeves; there's money on the table, and you're not the kind to just leave that lying around.
Dec 05, 2022 - The Moon is in Taurus and in your 10th house. How can you allow your romantic relationship to be an example for others of what an ideal relationship looks like? When I say an ideal relationship, I mean one that is built on honesty,…
Dec 05, 2022 - Are you in touch with your calling? This is something to ask yourself today as the Moon is in Taurus and in your 10th house of career. So often people go through their lives, mindlessly working at a job that doesn't fulfill them, that…
Dec 05, 2022 - Today is about balance and recognizing how balance within helps you make the best decisions for yourself, Leo. The more you balance yourself on the inside, the more you are balanced on the outside. If you have been struggling with financial decisions or being…
Dec 05, 2022 - You feel more grounded than usual today, Leo, helping you stay focused on the task at hand. Hard work comes naturally under this planetary influence, so let that ambitious energy flow through you. Start the day with chakra work to promote balance and stronger…
Dec 05, 2022 - You may or may not have work to tend to and you may or may not want to let loose and pursue your pleasures but it looks like an opportunity–or perhaps an obligation–could come from out of the blue and take up all your…
Let These Tarot Readings Help Guide You Through Your Day
Daily Gemstone & Crystal Reading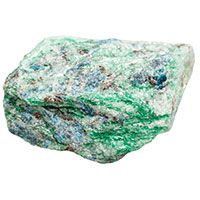 Fuchsite is often associated with healing, loving energy due to this green hue and its ties to the Heart chakra. This crystal allows us to find our inner light and release negative emotional energy, which allows those who use it to become more compassionate and forgiving in our relationships. Due…