Jun 03, 2023 - Do you experience joy and pleasure at your job? Do you feel inspired doing what you do? As the Moon is in Sag and in your 5th house of creative self-expression, these are relevant topics to meditate on.
It is crucial that you find happiness at your work, otherwise, you risk turning into someone who lives their life robotically, doing things mindlessly without imbuing them with your unique and personal flavor.
If that is your current reality at your job, what are the things you can shift in order to change that?
The King of Swords is not the guy you want to be on the wrong side of, but if you have his loyalty or appreciation, he's a good guy to have on your team. Often considered the highest leader of the court cards, he mixes the Fire element with his King status and the Air…
Let These Tarot Readings Help Guide You Through Your Day
Daily Gemstone & Crystal Reading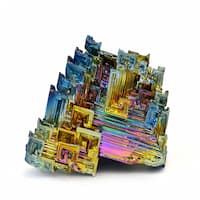 Bismuth is a beautiful multi-colored crystal that helps support transformation within the individual and brings a greater sense of confidence when working towards your hopes and dreams. It is especially helpful for teamwork and helps to relieve feelings of loneliness or being isolated. Bismuth is a Storm crystal and vibrates…
WHAT IS YOUR WORKPLACE MATCH?
Find out how you and your career match up!