For the Month of: May 2023
May - Leo, preapre to roar and let your fierce energy shine this May. The stars align to bring you an exciting and adventurous month. You'll feel more confident and empowered than ever, making this the perfect time to take on new challenges and embrace your inner strength. This month, the cosmos gift you abundance and luxury. You might desire to indulge in the finer things in life, like a decadent meal or a lavish spa day. But don't get too caught up in the material world. Remember to balance your desire for luxury with your inner wisdom. Take some time to reflect on your values and what truly brings you happiness. It's easy to get swept up in the external trappings of success, but true fulfillment comes from within.
May kicks off with Pluto going retrograde on May 1 in your opposite sign Aquarius. Pluto's retrograde motion urges you to dig deep and examine your patterns and behaviors. Are you showing up authentically and with integrity? Are your relationships reciprocal and balanced? Use this time to gain clarity and make any necessary adjustments. As Pluto travels back into Capricorn, you'll feel a sense of grounding and stability in your relationships. You'll gain an understanding of your needs and boundaries and be able to communicate them clearly.
The cosmic energy is ramping up as the Lunar Eclipse in Scorpio arrives on May 5, shaking up your home and family sector. Get ready for a significant transformations and breakthroughs in these areas of your life. The Lunar Eclipse is a powerful time for releasing what no longer serves you, especially regarding your home and family dynamics. You may need to reexaimine relationships with your loved ones and making necessary changes to create a more harmonious and loving environment.
In addition, this energy shines a spotlight on your emotional needs and nurturing your inner child. Take time to connect with your feelings and indulge in some self-care activities. You deserve to feel supported and loved by yourself and those around you.
On May 7, Venus swims into Cancer, bringing your innermost dreams and desires to focus. As Venus moves through your unconscious sector, you may find yourself more attuned to your intuition and inner wisdom regarding matters of the heart. It's a great time to tune into your deepest desires and passions and let them guide you towards creating more fulfilling and satisfying relationships.
Your career sector is about to get a significant boost. With Mercury going direct in Taurus on May 14. No more fumbling for words or getting tongue-tied in important meetings. You'll be able to get your point across and impress your colleagues with your eloquence. But that's not all Jupiter is also entering Taurus, which means big things are on the horizon for you. Jupiter is the planet of expansion and abundance, so preapre for career growth. You might even find yourself receiving a promotion or landing a dream job.
And as if that wasn't enough, a New Moon in Taurus is also on the horizon. It is the perfect time to set new goals for your career and put your plans into action. The New Moon is about new beginnings, so don't be afraid to take risks and pursue your passions. So, get ready to roar your way to the top. With these cosmic forces in your corner, there's no limit to what you can achieve. Just remember to stay humble and maintain a sense of humor. After all, even the king of the jungle needs to have a good laugh every now and then.
It's time to gear up for fiery and dynamic energy as Mars enters your sign on May 20. Brace yourself for an energetic boost kick-starting your engines and get you roaring towards success. With Mars in your corner, you'll be feeling confident, assertive, and ready to take on any challenge that comes your way. This planet is all about action, and you'll have the drive and determination to make things happen in your life. So, prepare to leap into action and take charge of your destiny. Just remember, with great power comes great responsibility. Make sure you channel all that energy in a positive and productive way. Avoid being overly aggressive or domineering, as this could turn off those around you. Remember to use your charisma and charm to win people over and make a lasting impression.
The next day, Gemini season begins, and this time of the year always brings fun and lively energy that will put a smile on your face. Currently you are drawn to intellectually stimulating conversations and activities that challenge your mind. With Gemini's quick-witted curiosity, you'll be eager to explore new ideas and expand your knowledge.
The month ends with a Sun-Saturn square on May 28, and this energy may bring up some challenging emotions and situations. You may feel frustrated or blocked in your social life or dealing with some financial setbacks in your personal life. It's time to buckle down and focus on your goals. Saturn is all about discipline and hard work; this transit will help you stay on track and get things done.
This month use bergamot essential oil to promote confidence. Use a citrine crystal to attract abundance and success.
May's mantra, "I honor my inner fire and use it to ignite positivity and inspiration in those around me."
Make sure to check back every month to get your personalized astrological insight from our experts.
Want more information about your own personal astrology? Discover more about your zodiac sign, monthly transits, and your birth chart through our free resources.
Get Your Free Horoscopes Here
There is definitely a sense of broken dreams or loss when the 5 of Pentacles appears. The Tarot is indicating that you are going through a tough time, and feel "out in the cold" in some way. Maybe you feel spiritually or emotionally abandoned by someone or something. Maybe you are just feeling a little…
Let These Tarot Readings Help Guide You Through Your Day
Daily Gemstone & Crystal Reading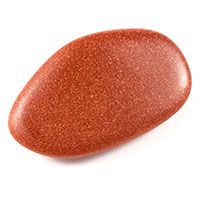 Red Goldstone is an uplifting crystal that can be used to find your positivity, become more confident, seek higher levels of calm, and can encourage us to be more ambitious and driven. The little flecks of gold throughout the crystal are symbolic of the "light" you may find when using…