For the Month of: December 2022
December - Welcome to December, sexy Leo! Your ruling planet, the Sun, continues to move through expansive Sagittarius, bringing a burst of artistic inspiration and romance to your entertainment sector. Last month, found you dealing with a chaotic Lunar eclipse in your public sector that invoked unexpected and massive change. Although you have experienced many tower moments this year, your monthly horoscope inspires opportunities to break free from old ways and move into a place of knowingness and trust. 
Neptune ends its five-month retrograde on December 3, and you may be feeling slightly emotional or overwhelmed by current energies. Take it slow! Especially when dealing with shared finances and intimate partners. In addition, this is a time to get honest about what you expect from someone.
Chatty Mercury enters ambitious Capricorn on December 6, kicking up conversations about cash, health, wealth, security, and work. You may be handling or setting the groundwork for future financial paperwork, getting organized, or having meaningful discussions about projects and goals.
Then, a Full Moon in Gemini arrives the following day on December 7, kicking up your wishes and dreams sector. A Full Moon represents a culmination of energies in the current Lunar cycle that feels like an emotional explosion of pent-up energies. In your house of networking and dreams, the Full Moon could bring information to light and bring a climax to a situation brewing in your social circle. It is the last Full Moon of the year, so meditate on your hopes and wishes for the future. Take care of loose ends at work, tidy your home, focus on supportive friendships, and embrace your entrance toward a new year. 
On December 9, sexy Venus enters Capricorn, finding you reconsidering how to spend your time and energy. In addition, your fitness and self-care routine may also be transforming. So, focus on re-prioritizing your tasks.
Jupiter enters Aries on December 20, bringing a rush of enthusiasm and a new zest for life. This transit indicates a spiritual awakening or revelation that will shift your attitude and life direction. Every challenge, experience, or situation you find yourself in right now is a seed for future happiness. 
Capricorn season begins on December 21, and you are ready to get busy and straight to work, create new to-do lists, and finally tackle goals you've put off. Balance your energies by paying attention to your emotions. Connect to your body and how you feel so you do not lose sight that well-being goes beyond the physical.  
December 23 brings a New Moon in Capricorn, the final New Moon of the year. The New Moon is associated with ambition, discipline, health and fitness, daily routines, pets, and work. It's an excellent time to take things slow, rest, reorganize, and plan for 2023. Take stock of all you have accomplished and lay the groundwork for what you want to see in the months ahead. Chiron goes direct in Aries, and you feel more confident in expressing yourself in new ways, successfully moving past wounds.
Finally, the month ends with Mercury going retrograde on December 29, during the First Quarter Moon in Aries. The next three weeks could throw some wrenches into your plans, asking you to take it slow. You may have to take a deeper look at your health and wellness and re-evaluate your attitudes on the current matters.
Leo, healing comes from changing the way you think and what you believe so you can see the meaning in all of life. You are creating change and transformation so you can step into a new and evolved version of yourself.
See you next year!
December's affirmation, "In the past, I worried about money, having the right relationships, and manifesting;
I now trust spirit and create the right relationship with my self-care routine. I welcome the new year with gratitude and trust."
Make sure to check back every month to get your personalized astrological insight from our experts.
Want more information about your own personal astrology? Discover more about your zodiac sign, monthly transits, and your birth chart through our free resources.
Get Your Free Horoscopes Here
The Knight of Cups is always a welcome card in any reading, particularly in Tarot readings about love or romance. A wonderful invitation is on its way to you, or you may be the one receiving the invitation. This invitation may be anything from a new date if you are single, to a proposal if…
Let These Tarot Readings Help Guide You Through Your Day
Daily Gemstone & Crystal Reading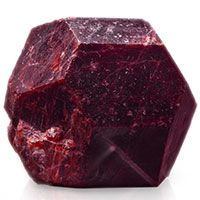 Garnet promotes love and attracts romance, making it an excellent stone to work with for anyone looking to increase the love in their life. This crystal is particularly helpful for those under the signs of Leo, Virgo, Capricorn, and Aquarius, all signs where loyalty is of the utmost importance. Garnet's…