For the Month of: February 2023
February - Welcome to February, sexy Leo. Be prepared to stroll down memory lane, because this month is a highly nostalgic and magical time to turn over a new leaf and open your heart to the myriad pleasures available. You only need to permit yourself to be playful, spontaneous, and creative and connect more with your authentic self. Focus on having fun, freedom, and the innocence of enjoying life again. See the world illuminated from a magical place and be ready to give and receive without expectation.
Challenges may arise on February 3, when the Sun clashes with rebellious Uranus. Disturbances to relationships, long-term goals, or plans are common now, testing your ability to roll with the punches. Although this is often a time of upsets and surprises, this energy can also trigger a significant breakthrough in your career. How you look at the world is bound to change, transforming your perceptions and views.
Sexy Venus clashes with red-hot Mars on February 4, and single Leos may struggle with finding a relationship that fulfills their ideal image. At the same time, committed Leos may experience power struggles and competitive tension. In addition, this transit increases your sex drive, and you tend to be more passionate and authoritative. So, satisfying your sexual needs is a must.
Next, on Sunday, February 5, a Full Moon arrives in your sign, putting the spotlight on you and your needs. Full Moons represent a peak in the lunar cycle that is the first time for releasing and relinquishing. This Full Moon is like a cosmic shedding of your past self. If you've been afraid to embrace and embody this new you, today is the day to face your fears and shine bright, beautiful Leo. Unfortunately, full Moons are also emotionally charged and tend to stir up drama. So, avoid outbursts and overreacting. Instead, focus on harnessing this renewed energy that is available to you.
On Saturday, February 11, Mercury enters your opposite sign Aquarius, highlighting contracts and relationships. A critical movement forward takes place in your agreements, adjusting your mindset to focus on what's best for you long-term.
Beauty and romance intersect with dreaminess and intuition when Venus conjuncts Neptune on February 15. During this transit, you may desire deep, intimate bonds with your loved ones, forcing you to deal with any underlying issues concerning intimacy.
The Sun enters Pisces on February 18, focusing more on your intimate relationships and shared assets. During the next few weeks, you may feel more psychic than usual and aligned with the universe. In addition, a New Moon in Pisces arrives on February 20, finding you reaching deep inside your mind and psyche. A New Moon symbolizes the beginning of a brand-new 28-day lunar cycle to release old stuck energies, rest, and plant seeds for the future; you may receive financial support or opportunities to level up if you've struggled. Luck is on your side this New Moon, so thank your lucky stars. Also, Venus enters fellow Fire sign Aries, and brings a burst of vitiality to your adventure sector. You'll find yourself mingling with people from different cultures and walks of the world.
Finally, the Sun is sextile the North Node on February 24, helping you become more aware of your purpose of why you are here. At the same time, personal problems may appear, threatening your identity and sense of self. Those are often universal initiations for you to step up in your creative power.
Overall, February brings increased harmony and cooperation in your relationships. It's time to step out of that dull, monotonous, repetitive, and stale cycle. Build sandcastles, dance in the rain, and jump in puddles.
February's affirmation, "I will not compromise my integrity out of loneliness or boredom. Instead, I learn to interpret the signals correctly and take responsibility for those I allow in my life."
Make sure to check back every month to get your personalized astrological insight from our experts.
Want more information about your own personal astrology? Discover more about your zodiac sign, monthly transits, and your birth chart through our free resources.
Get Your Free Horoscopes Here
Let These Tarot Readings Help Guide You Through Your Day
Daily Gemstone & Crystal Reading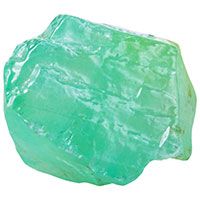 Because its primary chakra is the Heart chakra, working with Green Calcite can strengthen our connection You could also create an "Opportunity Elixir" by infusing your drink with Green Aventurine. Place a small (clean) chunk in your water or tea and let it soak for 30 minutes or more. The…