Dec 03, 2022 - Today you'll find success by mining your contacts and bouncing ideas off the most powerful partners in your life. The planets are coming together in a bountiful alignment that is sure to benefit you, so don't ignore this exciting opportunity for success!
The intuitive Moon is moving through your 7th House of one-on-one relationships and contracts, keeping your intuition sharp and your mind on fairness. Throughout the day it'll send out a harmonious trine to luxury-loving Venus in your 3rd House of communication and friendships. With these vibrations you might be pleasantly surprised when someone you only thought of casually presents themselves as the best possible contender for a dynamic duo.
Under these stars someone can really impress you, so don't be afraid to go out and see what people have to offer; you're very capable on your own, but two heads are smarter than one.
Dec 03, 2022 - Is it easy for you to be in relationship to others? Are you skilled in your diplomacy skills that are a necessary pillar in any healthy relationship? The Moon is in Aries and in your 7th house. It is important that you know how…
Dec 03, 2022 - Bring your attention to your business partnerships. What's the nature of your relationships with those whom you work with? Today the Moon is in Aries and in your 7th house. Can you afford to compromise more in your interactions with others? A necessary ingredient…
Dec 03, 2022 - Some important messages are on the way for you, Libra. The universe is on your side to help you but ultimately you have responsibility over your life and destiny. What is your intuition telling you about your finances? The crystal angelite is highly recommended…
Dec 03, 2022 - It can be difficult to get along with others today, especially if your energy is blocked or negative, Libra. Start the day with uplifting, affirming activities like yoga and meditation to help you let go of any stale energy and promote balance and harmony…
Dec 03, 2022 - Well, who knew THAT person felt that way about YOU, Libra! The planets are coming together in a romantic alignment that has your name written all over it, so don't ignore this exciting opportunity for pleasure. The intuitive Moon is moving through your 7th…
More Horoscopes for Libra
There is a bit of a juggling act in play when the 2 of Pentacles appears in your reading. If you are seeing this today, the Tarot is telling you that you've got a lot going on. But this is a Minor Arcana card and not an Earth-shattering juggling act. You may have put a…
Let These Tarot Readings Help Guide You Through Your Day
Daily Gemstone & Crystal Reading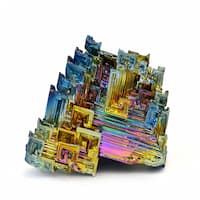 Bismuth is a beautiful multi-colored crystal that helps support transformation within the individual and brings a greater sense of confidence when working towards your hopes and dreams. It is especially helpful for teamwork and helps to relieve feelings of loneliness or being isolated. Bismuth is a Storm crystal and vibrates…