Mar 30, 2023 - Embrace your creative side today, Libra. Pick up a paintbrush, pen, or any other artistic tool and let your imagination run wild.
If you need some inspiration, try meditating with m, a crystal that can help you tap into your intuition and find new ideas.
For a healthy snack, reach for some berries. These colorful fruits are rich in vitamins and antioxidants that can help boost your immune system and overall well-being.
More Horoscopes for Libra
It's a new day! Literally, in some cases, when The Sun card arrives. But The Sun also represents a new day in your situation you are asking the Tarot about today. Major Arcana cards can be quite ambiguous when it comes to timing, and generally, the meaning of time when Major Arcana cards arrive is…
Let These Tarot Readings Help Guide You Through Your Day
Daily Gemstone & Crystal Reading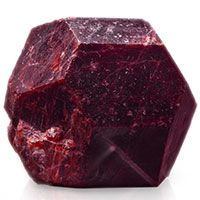 Garnet promotes love and attracts romance, making it an excellent stone to work with for anyone looking to increase the love in their life. This crystal is particularly helpful for those under the signs of Leo, Virgo, Capricorn, and Aquarius, all signs where loyalty is of the utmost importance. Garnet's…