May 29, 2023 - You know what you're about, and no one can tell you otherwise today–not that they would even dare, that is. Today action planet Mars, currently moving through your 2nd House of earned income and material possessions, sends a friendly beam to the intuitive Moon in your foundational 4th House of home and family, bringing these two powerful heavenly bodies into alignment.
Under these stars you've got your nose on the money, so follow your instincts when it comes to any opportunities that come your way. Since the 4th House also rules the women in your life consider mining your female contacts for any odd jobs or money-making opportunities they might know about.
You could come across a solid nugget of gold with today's productive energy so don't be afraid to ask for what you need and what you want. The squeaky wheel gets the grease!
May 29, 2023 - Do you know how to just relax with your partner at home and still manage to enjoy yourself just as much as if you were to go out and do something fun? Is it easy or hard for you to be in stillness with…
May 29, 2023 - How much do you allow yourself to rest? Do you permit yourself time to just be, relax and rejuvenate? The Moon is in Libra and in your 4th house, and is asking you to reflect on those things. If you're the kind of person…
May 29, 2023 - Big changes are coming up and you're probably feeling a rush of excitement. Lots of planning and preparation are in the mix so take time to get everything in order today. A few unexpected conversations about money may be on the horizon. Try not…
May 29, 2023 - An increase in Air energy helps you feel more lighthearted and social today, Cancer. You will communicate easily and honestly, making this a great day to share your thoughts and ideas with those around you. Balancing the Third Eye and Crown chakras will enhance…
May 29, 2023 - There is some very positive and productive energy in the heavens above right now, and while some signs will be using this transit to their sexual advantage, I don't really see that in your daily planetary program. Motivator Mars is moving through Leo and…
More Horoscopes for Cancer
The symbolism in the 3 of Swords is very raw and real. When life brings heartbreak, the Tarot offers the 3 of Swords. This can be heartbreak over any situation, romantic, or just a life experience that has caused some very real pain. Here is a heart that has been pierced by 3 swords. In…
Let These Tarot Readings Help Guide You Through Your Day
Daily Gemstone & Crystal Reading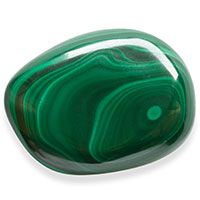 Malachite is most beloved for its healing properties and confidence-boosting reputation. Malachite offers protective and healing qualities, amplifying any change we wish to make in our lives.  This particular crystal is helpful for the intense signs of Scorpio and Capricorn who benefit from personal exploration.  Its primary chakra is our…