Mar 25, 2023 - If you've felt like you've been drifting through a foggy swamp for the last several months, well, I wouldn't be all that surprised, Cancer. You've been going through a very spiritual journey and dealing with a lot of demons, but it's time to let the light in and clear the air because you're now the one in charge.
Today motivator Mars moves out of Gemini and your sleepy 12th House of the subconscious and moves into your sign and your 1st House of self-expression and action, bestowing his powerful bounty on you for the next eight weeks. During this time your potential could skyrocket as you are able to summon up powers and energies that have lain completely dormant within you for some time now.
This is your moment to show the world what you can do, so go ahead and let them see!
Mar 25, 2023 - Today is the perfect day for you to communicate those feelings that you generally don't feel comfortable sharing with your partner. The Moon is in Gemini and in your 12th house. True connection is not possible if you are not willing to share your…
Mar 25, 2023 - The Moon is in Gemini and in your 12th house today. You are being asked to review any hidden aspects of your job. Are there any unconscious negative feelings that you have about your work? Ask yourself what those are and identify how you…
Mar 25, 2023 - It is important to focus on your sense of self-image and what your relationship to finances is like at this time, Cancer. Have you been too focused on your material world or have finances been causing you stress? Keeping a positive mindset is crucial…
Mar 25, 2023 - You may feel more grounded and practical than usual during this earthy transit. This is a good time to focus on your home and family. Use this time to declutter and create a peaceful atmosphere in your home. Moonstone is a stone that can…
Mar 25, 2023 - Look at you go, Cancer! If your sex life has felt about as exciting as a graveyard lately I'm happy to tell you things are about to get a lot more lively. Today motivator Mars leaps out of Gemini and your sleepy 12th House…
More Horoscopes for Cancer
You are looking for or needing harmony and balance in a situation when the Temperance card appears. But this is not a negative connotation. The Temperance card appears in the Tarot after The Death card, and this is sending us the call for balance and peace after a stressful situation. In most cases, the balance…
Let These Tarot Readings Help Guide You Through Your Day
Daily Gemstone & Crystal Reading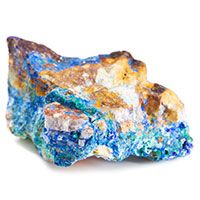 Azurite is known to help when we are dealing with emotional issues, confidence, and the feeling of impatience. Sometimes we lose touch with our ability to be kind and to feel comfortable within our own skin or within our surroundings. Sagittarius and Aquarius can feel particularly left out from time…