Cancer Daily Horoscope: Yesterday

Sep 29, 2023 - How far have you managed to climb up that professional ladder as of late? It's no secret this has been a, shall we say, confusing year? With all the shifts and changes you might not have gotten to scale as many rungs as you might have hoped when 2023 first started, but that doesn't mean you can't still make progress with what is yet to come.
The skies are currently lit up with the beautiful Full Moon in Aries, which just so happens to fall in your 10th House of career goals and professional ambitions. This lunation is going to open a window of a few weeks for you to tackle your goals and really manifest whatever professional progress you've been hoping for. If you have indeed been giving it your all then you could soon receive a bountiful reward and recognition for all the hard work you have been putting in as of late.
Sep 29, 2023 - The Moon is in Aries and in your 10th house today, this is bringing the focus on the public and external aspect of your relationship. Is the image that you present to the world of your romantic partnership an accurate portrayal of the reality…
Sep 29, 2023 - Are you in touch with your calling? This is something to ask yourself today as the Moon is in Aries and in your 10th house of career. So often people go through their lives, mindlessly working at a job that doesn't fulfill them, that…
Sep 29, 2023 - There is some positive Full Moon energy going on in the skies today and it is a powerful time to think of what you want to attract into your life in the coming future. In fact, your ability to manifest is strong over the…
Sep 29, 2023 - During this Full Moon transit, Cancer should focus on releasing emotional baggage and finding closure. Take time to reflect and let go of any negativity. To balance the energy, practice self-care activities like journaling or taking a relaxing bath. Amethyst or Rose Quartz can…
Sep 29, 2023 - Life has probably felt rather, well, basic lately, and while you don't necessarily love 'exciting,' you don't enjoy banal. While I certainly sympathize and know how dull life can be sometimes, I am more than happy to tell you that things are about to…
More Horoscopes for Cancer
Knights in the Tarot represent figures that are usually over the age of 25, but younger than 35 or 40. The swords in the Tarot represent the Air element, and so this Knight usually represents a younger member of the Geminis, Librans, or Aquarians that you know. At the same time,knights also represent deliveries sometimes,…
Let These Tarot Readings Help Guide You Through Your Day
Daily Gemstone & Crystal Reading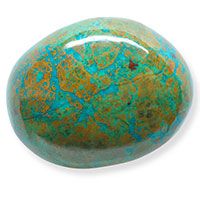 Soothing Chrysocolla has a calming effect that can assist in aura cleansing, give support to find acceptance, and help recovery from feelings of guilt, anger, and fear. If we have been hiding something, Chrysocolla encourages us to be more honest. This crystal also is helpful when healing the Throat chakra…