Cancer Daily Horoscope: Yesterday

Mar 23, 2023 - This is going to be a rather extreme day, when your most private business might clash with a very public situation. This energy is thanks to the fact that the intuitive Moon currently in Taurus and your 11th House of social groups and global communications, will be forming a tense square to power player Pluto in your intense 8th House of lump sums and other people's money.
This is one of the most jarring transits in all of astrology, so to say that things could get awkward and potentially uncomfortable is a bit of an understatement. Try to think two steps ahead of every conversation because the last thing you want to do is wind up in uncomfortable territory; similarly, this transit could blow the lid off a simmering financial matter, so if you find yourself suddenly needing to hand out a large sum of cash try to figure out the smartest way to do it.
Mar 23, 2023 - The Moon is in Taurus and in your 11th house today. Do you have a sense of friendship in your intimate relationships? Do you feel that you and your partner aspire towards the same goals and ideals in your personal and joint lives? These…
Mar 23, 2023 - Community is such a determining factor of whether you experience joy or fulfillment at your job. The Moon is in Taurus today and in your 11th house. This is highlighting the nature of your relationship to your coworkers. Do you have an easy time…
Mar 23, 2023 - Today you may feel keen to expand your horizons and a fresh idea or two may crop up which could generate financial income further down the line, so be sure not to ignore what springs to mind today, Cancer! The Moon is in Pisces…
Mar 23, 2023 - You may feel more sensitive and emotional than usual during this Moon in Aries transit, Cancer. Take some time to connect with your feelings and express them in a healthy way. Journaling, meditation, or talking to a trusted friend can help you process your…
Mar 23, 2023 - Things could range from casual to steamy in a matter of seconds today, but be careful you don't get burned in the process. The Moon is moving through your outgoing 11th House of social groups and global communications, so you're in a rather buoyant…
More Horoscopes for Cancer
The Queen of Swords represents the highest embodiment in the female stature of the Air signs. She is likely an older woman that is a Gemini, Aquarius, or Libra, or may just be an older woman that prefers rational thought and logic over emotions. This woman is sitting on her throne and holding her sword…
Let These Tarot Readings Help Guide You Through Your Day
Daily Gemstone & Crystal Reading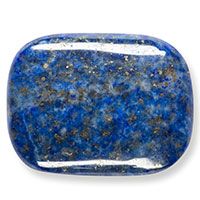 Lapis Lazuli has deep spiritual ties to royalty, wisdom, and truth. It is associated with royalty and other elements of leadership. It has been a well-respected stone since the time of the Ancient Egyptians, who believed this stone could work as a guide toward one's intended path. Additionally, Lapis Lazuli…