Cancer Money Horoscope: Yesterday

Mar 24, 2023 - It's time to gather your resources, gain knowledge and let your intentions be known!
This Moon has powerful meaning for you and the potential for manifestation is extremely strong. The real question is - do you believe in yourself?
Your financial dreams, goals and aspirations can become a reality so long as you believe in yourself. Self-doubt may be the only thing standing in your way. It's time to take the reins and truly believe in all you can do. Remember, you can achieve anything you set your mind to!
More Horoscopes for Cancer
You are looking for or needing harmony and balance in a situation when the Temperance card appears. But this is not a negative connotation. The Temperance card appears in the Tarot after The Death card, and this is sending us the call for balance and peace after a stressful situation. In most cases, the balance…
Let These Tarot Readings Help Guide You Through Your Day
Daily Gemstone & Crystal Reading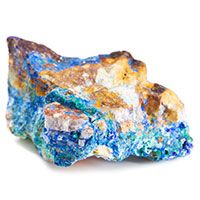 Azurite is known to help when we are dealing with emotional issues, confidence, and the feeling of impatience. Sometimes we lose touch with our ability to be kind and to feel comfortable within our own skin or within our surroundings. Sagittarius and Aquarius can feel particularly left out from time…