Dec 06, 2022 - You may feel more frustrated than usual today, Cancer, making it harder for you to get along with others. There can be conflict with this planetary influence, so try to remain compassionate with yourself and others. Yoga and meditation will help you find the balance you need today.
Rhyolite is a crystal that expands your perception and helps you see things in a new light. Working with rhyolite will help you feel more optimistic and inspired.
Cauliflower is a cruciferous vegetable known for its nutritious, versatile nature. Roasted cauliflower with hot sauce and blue cheese crumbles makes a delicious, meatless alternative to hot wings, Cancer.
More Horoscopes for Cancer
The 2 of Swords has much different energy than the Ace that came before it. This is a card that shows that inaction may be the place you are in regarding a specific situation. You may be at a crossroads on the decision, as noted by the crossed swords in front of the figure in…
Let These Tarot Readings Help Guide You Through Your Day
Daily Gemstone & Crystal Reading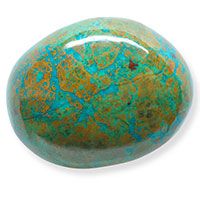 Soothing Chrysocolla has a calming effect that can assist in aura cleansing, give support to find acceptance, and help recovery from feelings of guilt, anger, and fear. If we have been hiding something, Chrysocolla encourages us to be more honest. This crystal also is helpful when healing the Throat chakra…