Apr 01, 2023 - Your capacity for socialization is amplified today, Cancer, urging you to spend time with the people that you love and appreciate. This is an excellent day to share your thoughts, emotions, and ideas with the world. Don't hold yourself back today.
Clear calcite will cleanse your energy and amplify any good feelings you have today. Place a piece of clear calcite on your altar, close your eyes, and imagine the healing energy washing over your body.
If you get a craving for sweets, reach for the dark chocolate, Cancer. Dark chocolate is rich in antioxidants that keep the body healthy, and it contains less sugar than other sweet treats.
More Horoscopes for Cancer
It's time to sit back, relax, and enjoy the fruits of your labours when the 9 of Pentacles arrives. We see a woman dressed in lush attire in a garden surrounded by beauty. She has a bird perched on her hand as if she is the calmest creature in the world. In this sense, she…
Let These Tarot Readings Help Guide You Through Your Day
Daily Gemstone & Crystal Reading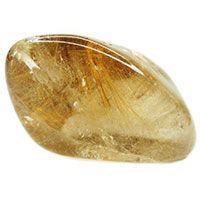 The "rutile" part of Rutilated Quartz refers to the black or reddish-brown needle-like mineral that runs through it. Due to the nature of its composition, it represents balance and duality.  We may forget that, more often than not, we are capable of helping ourselves through our own problems and may…