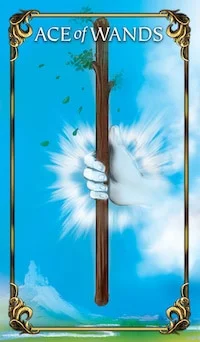 The Ace of Wands Tarot card brings a message from the Universe that you are attracting the qualities of the Wands in an area of your life today. The Tarot is bringing you a message stating that there's a new beginning or the potential of a new beginning offered in an experience for you today. It will be marked by enthusiasm, creativity, passion, and excitement. It carries a sense of adventure and a spring-like bounce to your step.
This card is a good omen if you are thinking of starting something new, like a new relationship or job. A message or an invitation will arrive in your day unexpectedly when you see this card.
The Ace of Wands Tarot card is a wonderful omen to see in any reading. With Fire sign energy behind it, this Tarot card symbolizes new beginnings of many kinds, particularly those in the creative or passionate pursuits of life!
This is a new beginning that is going to happen quickly and is going to come out of the blue. This is not one you actively need to pursue. The hand coming from the clouds with a beautiful glowing wand symbolizes this gift coming to you. The new beginnings most often associated with this card are new relationships, a first date, travel plans, or an exciting new opportunity or project in the creative fields.