Mar 25, 2023 - Hopefully you've been enjoying yourself lately, Aquarius, and gotten in some kicks and a few ya-ya's, because there is a major energy shift occurring in the heavens today and I can promise you you'll feel this one without a doubt.
Motivator Mars, the planet of action and energy, is moving out of Gemini and your 5th House of romance and creativity and diving into Cancer and your 6th House of work and routine for the next eight weeks. The red planet will be occupying this efficiently minded sector of your chart for the first time in two years, so be sure to take advantage of this phase the best you can because by the time it's over you could have become such an improved version of yourself that people will have a hard time recognizing you.
The thing is it won't really matter whether they do or not because you'll be too busy making it rain to even notice.
Mar 25, 2023 - This is a great time to allow yourself to just enjoy yourself in your romantic partnerships and have some fun! The Moon is in Gemini and in your 5th house of romance. How are you at allowing yourself to just experience pleasure and fun…
Mar 25, 2023 - Do you experience joy and pleasure at your job? Do you feel inspired doing what you do? As the Moon is in Gemini and in your 5th house of creative self-expression, these are relevant topics to meditate on. It is crucial that you find…
Mar 25, 2023 - Now is the time to focus on your own personal well-being and consider how your finances are making you feel, Aquarius. If they are bringing negative energy then it is time to take a break. Time out can help you find a new perspective…
Mar 25, 2023 - During this transit, you may feel more grounded and practical than usual. This is a good time to focus on your home and family. Use this time to declutter and create a peaceful atmosphere in your home. Moonstone is a stone that can help…
Mar 25, 2023 - You've been on a cosmic pleasure cruise ever since motivator Mars entered mercurial Gemini and your 5th House of romance and passion, meaning the universe was giving you an extra shot at all the exciting and wonderful things this world has to offer. Well,…
More Horoscopes for Aquarius
You are looking for or needing harmony and balance in a situation when the Temperance card appears. But this is not a negative connotation. The Temperance card appears in the Tarot after The Death card, and this is sending us the call for balance and peace after a stressful situation. In most cases, the balance…
Let These Tarot Readings Help Guide You Through Your Day
Daily Gemstone & Crystal Reading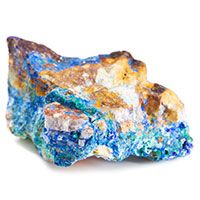 Azurite is known to help when we are dealing with emotional issues, confidence, and the feeling of impatience. Sometimes we lose touch with our ability to be kind and to feel comfortable within our own skin or within our surroundings. Sagittarius and Aquarius can feel particularly left out from time…