Nov 28, 2023 - Whether or not you have some fun plans looming on the back burner, just know that there is little need to chase after them on a day like this because the heavens already have a plan in store for you.
Pleasure-loving Venus is currently moving through your 9th House of global travel and far off horizons, and throughout the day she is going to reach out across the sky to the intuitive Moon in your 5th House of passion and creativity.
This kind of alignment only occurs twice a month and is very positive and very powerful, so there are more exciting opportunities than the usual 9-to-5 grind to deal with. Whether you engage in artistic pursuits or romantic ones, you're sure to find happiness waiting for you. Go forth and enjoy!
Nov 28, 2023 - This is a great time to allow yourself to just enjoy yourself in your romantic partnerships and have some fun! The Moon is in Gemini and in your 5th house of romance. How are you at allowing yourself to just experience pleasure and fun…
Nov 28, 2023 - Do you enjoy your work? Do you feel inspired in what you do? These are relevant questions to ponder as the Moon is in Gemini and in your 5th house of creative self-expression. Practice bringing more of your creative vision into your work. Otherwise,…
Nov 28, 2023 - As much as you may find yourself wanting to avoid certain issues, this is a good time to get everything cleared up once and for all. It's a great time to reach within and recognize aspects of yourself that you are avoiding. If there…
Nov 28, 2023 - Your energy is even feistier than usual today, Aquarius. You may feel more playful than ever, especially if your energy is balanced. However, an imbalance may cause irritation or tension. Try to create harmony in the body through exercises like meditation and chakra work.…
Nov 28, 2023 - A special someone could have an almost hypnotic control over you today, and it doesn't look like there's any reason to deny them this power–provided they don't abuse it, of course. Romantic Venus is coming together with the intuitive Moon for one of their…
More Horoscopes for Aquarius
Just as he was in ancient days, The Emperor in the Tarot is the symbol of ultimate authority; but where his authority lies in your day or question remains to be seen. This could be anyone from a police officer to a real estate agent or lawyer. Home issues and father figures can also crop…
Let These Tarot Readings Help Guide You Through Your Day
Daily Gemstone & Crystal Reading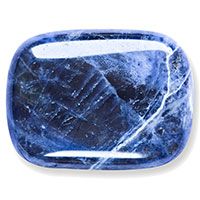 Sodalite's name was taken from the Ancient Greek meaning for "salt stone," referring to the white Calcite flecks peppered through it. Known for its properties of intuition, guidance, and focusing energy, Sodalite is a wonderful crystal to work with to help with self-esteem for guidance, and its calming vibrations can…