Dec 05, 2022 - Things might be a little off on the home front today, Aquarius, so if you had plans to head out and party with your amigos, well, it wouldn't be all that shocking if something comes up that demands your immediate attention instead.
The Moon is traveling through stable Taurus and your foundational 4th House of home and family, so you're in the mood to putter around the house first and foremost. This would normally make for a quiet day, but the Moon will align with rebellious Uranus, shaking things up when you least expect them. Instead of trying to force things to go one way or another just go with the flow; a relative might call you in need of assistance, be it emotional or financial, or perhaps you find yourself in a position of needing to ask for help.
That's not to say today will be bad! You could get some very nice surprises instead, but that's the thing with Uranus; you never know what surprises are in store.
Dec 05, 2022 - Sometimes it is ok to just stay at home and cuddle with your loved one. The Moon is in Taurus and in your 4th house. It is highlighting the necessity of allowing yourself to do that. We are quite conditioned in our society to…
Dec 05, 2022 - How much do you allow yourself to rest? Do you permit yourself time to just be, relax and rejuvenate? The Moon is in Taurus and in your 4th house, and is asking you to reflect on those things. If you're the kind of person…
Dec 05, 2022 - You may find the universe is sending you a few messages at this time, Aquarius. It is not always easy spotting the messages from the universe, but they ought to become very clear right now! Your path is leading you to a place that…
Dec 05, 2022 - You feel more grounded than usual today, Aquarius, helping you focus on anything you set your mind on. Setting your intentions is exceptionally powerful today, and you are better able to manifest the things you want in life. Visual meditation will amplify your manifestation…
Dec 05, 2022 - If you had a bunch of plans to go out and enjoy yourself today it looks as though you're going to wind up needing to attend to a few matters around the home first. The Moon is moving through Taurus and your foundational 4th…
More Horoscopes for Aquarius
Let These Tarot Readings Help Guide You Through Your Day
Daily Gemstone & Crystal Reading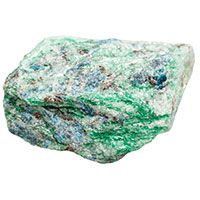 Fuchsite is often associated with healing, loving energy due to this green hue and its ties to the Heart chakra. This crystal allows us to find our inner light and release negative emotional energy, which allows those who use it to become more compassionate and forgiving in our relationships. Due…