Aquarius Daily Horoscope: Tomorrow

Mar 30, 2023 - One minute you're ready to power up with a partner and plow through a day's worth of work, the next minute something goes wrong and everyone is running for the hills. Sounds like a productive day? No, didn't think so. The intuitive Moon is currently moving through your partnership-oriented 7th House of one-on-one relationships and legal contracts, which is normally great for getting things done.
Today, however, she'll be opposing taskmaster revolutionary Pluto in YOUR sign, putting you on the direct receiving end of this planetary tug-o-war. With so much happening it might be impossible to find any time to actually settle down and use said time productively, especially if you're trying to do so with a partner. Since legal contracts are highlighted today be extremely careful before you say yes to anything; things may not be what they appear.
Mar 30, 2023 - The Moon is in Cancer and in your 6th house today, however it is also trining Neptune in your 2nd house. It is a natural part of every successful relationship that they require hard work and devotion, especially in the day to day interactions…
Mar 30, 2023 - How disciplined are you in the way you go about your work? Are you able to maintain the focus necessary to take care of and manage all the details that need tending to? These are all questions to ask yourself today as the Moon…
Mar 30, 2023 - There's a sense that you are finding out some important aspects about yourself at this time, Aquarius, and this relates to finances too. The way you manage money may be coming into your mind. If you have struggled with financial losses, always keep your…
Mar 30, 2023 - Embrace your individuality and unique perspective today, Aquarius. Spend some time exploring your passions and interests, and don't be afraid to let your creativity flow. Try working with citrine, a crystal that can help you enhance your self-expression and confidence. Enjoy a colorful salad…
Mar 30, 2023 - One moment you're all about that special someone, the next you're being repelled like two opposing magnets. The intuitive Moon is currently moving through your partnership-oriented 7th House of one-on-one relationships, which usually can make for a wonderful romantic opportunity. Right now, however, la…
More Horoscopes for Aquarius
The 10 of Cups is a wonderful card to see in any reading, and when it shows up in your day, you are being given a message of pure love. For Yes/No questions today, the answer this loving card brings is an absolute YES. You are going to get what you want, and then some.…
Let These Tarot Readings Help Guide You Through Your Day
Daily Gemstone & Crystal Reading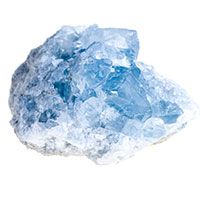 Celestite is a deeply spiritual crystal that helps to connect us to divine wisdom and supernatural forces within the cosmos. This is a crystal to use when you are strengthening your spiritual abilities. It is also a wonderful crystal for those exploring their clairvoyant or psychic abilities. It promotes inner…