aquarius Monthly Horoscope


For the Month of: May 2023
May - Welcome to May, beautiful Aquarius. The month ahead urges you to stay clear of all that fear. Take a deep breath, rest, recharge, and let the world spin without you for a second. It's time to let go of self-doubt and embrace your inner boss. People will be amazed by your strength and finesse. So put on your best outfit and get ready to ignite. Your determination and drive will inspire others to follow their dreams.
The stars are aligning, and Pluto is kicking it into high gear, going retrograde in your sign on May 1. You've got a cosmic boost from Pluto, so don't be afraid to put yourself to the test. This transit is your chance to step into your power to rise above the rest. You might feel out of sorts, but trust that the universe is on your side. Embrace this retrograde energy, and let it be your guide. So, take a step back, reassess your path, and let Pluto help you transform.
On May 5, a Lunar eclipse arrives in Scorpio, and this energy will bring about a profound spiritual shift. The Lunar Eclipse is beautifully intense, pushing you to release old patterns and beliefs that no longer serve you. The process may be challenging, but it will lead to a sense of liberation and freedom. Overall, this energy wants you let go of any limiting beliefs or fears holding you back from achieving your goals. The Lunar Eclipse in your career sector, will also encourage you to think about your legacy and the impact you want to make in the world. So, dream big and set your sights high.
Then, Venus moves into Cancer on May 7, and this transit is about taking care of yourself and indulging in self-love. This is a great time to prioritize your health and well-being and to treat yourself to some pampering and relaxation. And who knows? You might catch the eye of someone special while you're at it.
Get ready for an exciting week because on May 14, Mercury goes direct in Taurus. Mercury direct brings clarity and forward momentum to your communication and thought processes. You'll finally feel like you can get your ideas across clearly and without miscommunication, making it an excellent time for negotiations, contracts, and agreements.
Next up, Jupiter enters Taurus, expanding your horizons and bringing abundance and good fortune into your life. You may find opportunities are coming your way, and it's up to you to take advantage of them. Stay open-minded and curious, and you may find that unexpected doors start to open for you.
The New Moon in Taurus arrives on May 19, making it the perfect time for new beginnings and fresh starts. Take advantage of this energy by setting intentions and goals that align with your values and priorities. Focus on self-care, nurturing your body and mind, and finding ways to increase your overall sense of well-being.
The next day, Mars enters your opposite sign Leo, bringing exciting energy to your relationships. This powerful combination of fiery and adventurous energy will bring an exciting twist to your love life. Expect to feel a strong urge to connect with others on a deeper level, leading to passionate encounters and new relationship opportunities. It's also a great time to work on existing relationships and partnerships. You'll feel more assertive in communicating your needs and desires, and you'll have the energy to work through any issues that may arise. It's important to listen to your partner's needs and work together to find common ground.
On May 21, the radiant Sun moves into Gemini, bringing a burst of creativity, romance, playfulness, and passion. Gemini's vibrant energy will inspire you to tap into your inner child and unleash your creative spirit. You'll be feeling confident and charismatic, radiating positive energy wherever you go. Your social life will flourish during this time, as you'll be drawn to like-minded individuals who share your love of fun and adventure. Whether you're attending a party, meeting new people, or just enjoying some quality time with friends, you'll be the life of the party.
Finally, the month ends with a Venus-Uranus sextile on May 26, opening new doors that could lead to new job opportunities, partnerships, or creative endeavors. In addition, this energy encourages you focus on self-care.
This month use clary sage to promote relaxation and ease anxiety. Also, use amethyst to connect with your inner wisdom.
May's mantra, "I am open to the blessings and surprises that come my way, and I trust in my intuition to lead me towards my highest good."
Make sure to check back every month to get your personalized astrological insight from our experts.
Want more information about your own personal astrology? Discover more about your zodiac sign, monthly transits, and your birth chart through our free resources.
Get Your Free Horoscopes Here
The symbolism in the 3 of Swords is very raw and real. When life brings heartbreak, the Tarot offers the 3 of Swords. This can be heartbreak over any situation, romantic, or just a life experience that has caused some very real pain. Here is a heart that has been pierced by 3 swords. In…
Let These Tarot Readings Help Guide You Through Your Day
Daily Gemstone & Crystal Reading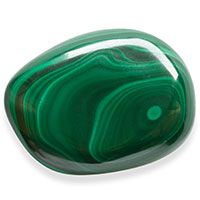 Malachite is most beloved for its healing properties and confidence-boosting reputation. Malachite offers protective and healing qualities, amplifying any change we wish to make in our lives.  This particular crystal is helpful for the intense signs of Scorpio and Capricorn who benefit from personal exploration.  Its primary chakra is our…