Aquarius Daily Horoscope: Yesterday

Dec 04, 2022 - Trying to get clear on a concept could drive you all but up the wall today, Aquarius, so take your time and listen closely to each and every person you encounter but also know that if your internal BS meter starts going off then it is doing so for a reason.
The intuitive Moon is barreling through Aries and your outgoing 3rd House of community and communications, so you've probably got a million things going on right now. It's entirely possible during this transit you'll encounter people with ideas and concepts that you might want to utilize to your advantage, and today someone might let you in on an interesting tidbit of news that has you seeing signs in the stars.
Take a step back, however, and reassess before you make any commitments: la Luna is squaring off power player Pluto in your secretive 12th House, so it's more than likely you're missing a very important piece of the puzzle.
Dec 04, 2022 - Do you know how to just relax with your partner at home and still manage to enjoy yourself just as much as if you were to go out and do something fun? Is it easy or hard for you to be in stillness with…
Dec 04, 2022 - How much do you allow yourself to rest? Do you permit yourself time to just be, relax and rejuvenate? The Moon is in Taurus and in your 4th house, and is asking you to reflect on those things. If you're the kind of person…
Dec 04, 2022 - Today it is important to go inwards and face aspects of yourself that are causing you worry, Aquarius. You may have some concerns about finances that are causing you trouble. Today is about finding inner balance and also reaching out for advice when necessary.…
Dec 04, 2022 - While you are typically balanced and harmonized, you may feel more aggressive than usual today, Aquarius. This makes it easier for you to stand up for yourself, but it can also cause tension in relationships. Try to start the day with positive affirmations to…
Dec 04, 2022 - There is a lot going on in the heavens today, Aquarius, and while I'd love to sit here and tell you there was a cosmic pleasure cruise just waiting for you, well, unfortunately I can't really do that. The Moon is moving through Aries…
More Horoscopes for Aquarius
Let These Tarot Readings Help Guide You Through Your Day
Daily Gemstone & Crystal Reading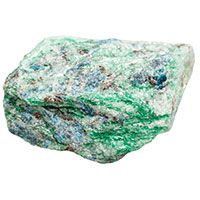 Fuchsite is often associated with healing, loving energy due to this green hue and its ties to the Heart chakra. This crystal allows us to find our inner light and release negative emotional energy, which allows those who use it to become more compassionate and forgiving in our relationships. Due…