Aquarius Daily Horoscope: Yesterday

Mar 29, 2023 - How much effort can you put in before you start to burn out? With the Moon moving through your 6th House of work and routine, you've been burning the midnight oil; unfortunately, today, that hard work receives a harsh reality check from expansive Jupiter in your 3rd House of communication and local travel. Perhaps a contract with a client you'd thought had been perfectly hammered out gets sent back to you with new demands and you're left scrambling to find a new plan that meets everyone's needs.
You might also find that someone who you assumed was on the up-and-up turns out to be more of a shady character than you once thought. If there's any business between you make sure the lines are clearly drawn in the sand; the planets are more likely to confuse than anything, so make sure you know exactly what you're doing.
Mar 29, 2023 - Are you willing to do the necessary work that a relationship requires in order to actually thrive and succeed? The Moon is in Cancer and in your 6th house. People quite often want relationships to be easy and go smoothly without actually having the…
Mar 29, 2023 - How disciplined are you in the way you go about your work? Are you able to maintain the focus necessary to take care of and manage all the details that need tending to? These are all questions to ask yourself today as the Moon…
Mar 29, 2023 - Now is the perfect time to put your feet up and have a bit of relaxation, Aquarius. As a matter of fact, if you've been worrying quite a bit lately then today ought to result in some welcoming reprise for you. It's important to…
Mar 29, 2023 - During this phase, you may feel called to connect with others and engage in community-based activities, Aquarius. Engage in activities that promote self-expression and creativity, such as painting or writing. Connect with the innovative energy of labradorite by carrying a piece with you or…
Mar 29, 2023 - If you're looking for love today, be sure to get out and about because you're not going to find it sitting around the house. A powerful square between the Moon in your 6th House of wellness & routine and bountiful Jupiter in your 3rd…
More Horoscopes for Aquarius
It's a new day! Literally, in some cases, when The Sun card arrives. But The Sun also represents a new day in your situation you are asking the Tarot about today. Major Arcana cards can be quite ambiguous when it comes to timing, and generally, the meaning of time when Major Arcana cards arrive is…
Let These Tarot Readings Help Guide You Through Your Day
Daily Gemstone & Crystal Reading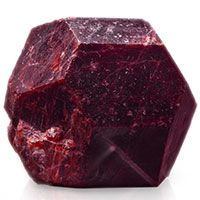 Garnet promotes love and attracts romance, making it an excellent stone to work with for anyone looking to increase the love in their life. This crystal is particularly helpful for those under the signs of Leo, Virgo, Capricorn, and Aquarius, all signs where loyalty is of the utmost importance. Garnet's…