Aquarius Career Horoscope

Mar 25, 2023 - Do you experience joy and pleasure at your job? Do you feel inspired doing what you do? As the Moon is in Gemini and in your 5th house of creative self-expression, these are relevant topics to meditate on.
It is crucial that you find happiness at your work, otherwise, you risk turning into someone who lives their life robotically, doing things mindlessly without imbuing them with your unique and personal flavor.
If that is your current reality at your job, what are the things you can shift in order to change that?
More Horoscopes for Aquarius
You are looking for or needing harmony and balance in a situation when the Temperance card appears. But this is not a negative connotation. The Temperance card appears in the Tarot after The Death card, and this is sending us the call for balance and peace after a stressful situation. In most cases, the balance…
Let These Tarot Readings Help Guide You Through Your Day
Daily Gemstone & Crystal Reading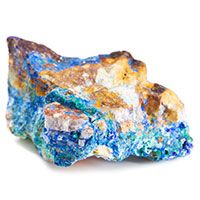 Azurite is known to help when we are dealing with emotional issues, confidence, and the feeling of impatience. Sometimes we lose touch with our ability to be kind and to feel comfortable within our own skin or within our surroundings. Sagittarius and Aquarius can feel particularly left out from time…
WHAT IS YOUR WORKPLACE MATCH?
Find out how you and your career match up!