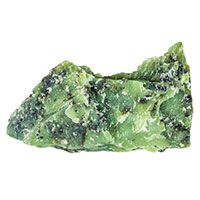 Affirmation(s): "I am always filled with healing energy."
The Serpentine crystal (also called New Jade) can be soothing when we are struggling to overcome feelings of anger or irritability. This stone can help us reset ourselves, find abundance, and manifest healing energy.
For energetic Gemini, a sign that needs its good humor and to get others on their side, keeping Serpentine nearby can be especially helpful.
Its primary chakra is the Heart chakra, which connects to our feelings of compassion and love, forgiveness, and how we treat others in relationships.
Serpentine is particularly effective during chakra healing. Its green color resonates with the heart, so use a Serpentine necklace or pendant to keep it close by.