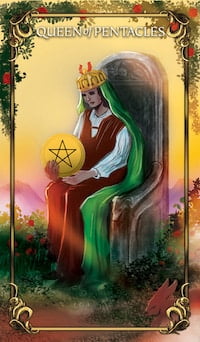 When the Queen of Pentacles Tarot card arrives in your Tarot reading, know that you are being given a message of abundance and fertility. There may not be a lot of exciting drama happening in your situation or your day right now, but you are still sitting pretty. The presence of this Tarot card could suggest that all of the moves you have been making to create stable relationships and a secure environment for your loved ones have been all right. You may not feel glamorous or beautiful, but you are in good shape.
With the Queen of Pentacles Tarot card, we see a woman that some may describe as plain or not overly becoming, sitting in a garden surrounded by abundance and beauty. She is holding a pentacle and looks thoughtful.
Pentacles represent Earth signs, and this card appearing in your day could suggest that an older woman who is a Taurus, Virgo, or Capricorn may be making an appearance in your day.
The overall message from this card has a practical and stable tone. The world this woman is in is abundant and blessed, and she may not be the most exciting or glamorous person on the planet, but she provides well and has an abundant home life to show for it.