Sep 24, 2023 - This could be one of the most wonderfully romantic days you've experienced in some time, so do your best not to waste this golden opportunity. The intuitive Moon is drifting through your sign and your 1st House of self-expression and action, so you're highly clued into the vibrations all around you.
Throughout the day la Luna will reach out across the heavens to form a harmonious trine with the primal Sun in your boundless 9th House of foreign cultures and long-distance travel. While these sectors aren't necessarily about romance, these angles are so positive that the planets clearly want you to do your best to enjoy these transits.
A casual relationship could take a turn for the much, much more serious, so make sure you remember the way to the bedroom and don't get lost along the way.
More Horoscopes for Aquarius
The presence of the Queen of Cups in your day suggests there is a lot of intuitive energy in the air. This Queen often signifies that an older woman, or person, likely of the Water Signs in astrology, will make a presence in your day. This court card symbolizes the zodiac sign of Scorpio, but…
Let These Tarot Readings Help Guide You Through Your Day
Daily Gemstone & Crystal Reading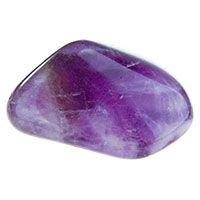 Amethyst is a member of the Quartz family, its color range starts with the palest lilac and goes to the deepest and darkest of purples. In its raw state, it forms in points, from tiny clusters in the druse, to huge natural termination. Containing qualities of purification and protection, Amethyst…