Mar 30, 2023 - There's a sense that you are finding out some important aspects about yourself at this time, Aquarius, and this relates to finances too. The way you manage money may be coming into your mind.
If you have struggled with financial losses, always keep your eye fixed on the bigger picture. The more you look at the bigger picture, the more you are able to see why things happen the way they do.
Everything is a learning curve and ultimately leads us to a better place. What lessons have you learned recently, Aquarius? What messages does the universe have for you at this time?
More Horoscopes for Aquarius
It's a new day! Literally, in some cases, when The Sun card arrives. But The Sun also represents a new day in your situation you are asking the Tarot about today. Major Arcana cards can be quite ambiguous when it comes to timing, and generally, the meaning of time when Major Arcana cards arrive is…
Let These Tarot Readings Help Guide You Through Your Day
Daily Gemstone & Crystal Reading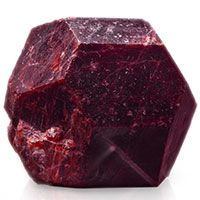 Garnet promotes love and attracts romance, making it an excellent stone to work with for anyone looking to increase the love in their life. This crystal is particularly helpful for those under the signs of Leo, Virgo, Capricorn, and Aquarius, all signs where loyalty is of the utmost importance. Garnet's…