Cancer Money Horoscope: Tomorrow

Sep 23, 2023 - Things may be a little uncertain right now. You might be wondering how you are going to afford your expenses. Some planning and organizing may be required of you today.
However, things are looking positive for you in the future, so long as you plan and move carefully. Be sure to connect to yourself and listen to your inner wisdom.
Reckless spending is off the table. It's time to tighten your belt and proceed carefully as there may be some unexpected moments on the horizon.
More Horoscopes for Cancer
The Knight of Pentacles is in no hurry. We see no sudden movement in this card. He is resting on his horse, and looking at his pentacle almost as if he is meditating on it, or more aptly, considering his next move. Knights often bear messages or information, but also represent the mid-point of a…
Let These Tarot Readings Help Guide You Through Your Day
Daily Gemstone & Crystal Reading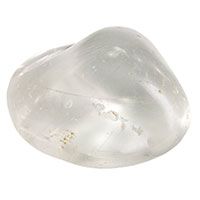 Clear Quartz is a multi-use crystal that is helpful to all zodiac signs and all seven chakras. Known for its powers to amplify and enhance, this is a healing crystal unlike any other. It is one of the most powerful stones to work with because it acts as an energy…