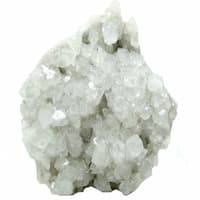 Affirmation(s): "I embrace my positive energy."
Apophyllite is a soothing crystal that helps to ease stress and anxious feelings. It helps dissolve negative energy and connects us to a higher realm, enabling us to see the bigger picture.
It is especially helpful for those who have stressful jobs or hectic lifestyles and for whom the smaller details often result in stress and tension.
Apophyllite encourages us to embrace our psychic and intuitive sides and helps us tap into hidden psychic powers. This stone can help those wishing to pursue this side of themselves access their highest potential.
Apophyllite is a wind crystal that vibrates with Gemini and Libra's energy. 
It relates to the Third Eye chakra and the Crown chakra as it nurtures psychic abilities.
Place a piece of Apophyllite on your forehead while lying down and engage in a meditative state. Focus on your pineal gland (the spot in the middle of your forehead just above your eyes) and allow the crystal's energy to wash over you. 
Placing this crystal under your pillow at night is also beneficial to assist with dream work.