Cancer Daily Horoscope: Tomorrow

Dec 06, 2023 - Messenger Mercury recently embarked on his visit to your 7th House of partnerships, and today he has got quite the performance up his sleeve. That being said, he won't be performing it all by his lonesome self. The intuitive Moon is spending the day in your 4th House of home and family, making you a little bit more sensitive than normal.
Throughout the day the Moon will form a tense square to Mercury, which in turn is making it more than a little easy for someone to push your buttons and leave you feeling vulnerable and exposed, and not necessarily in a good way. Take some time away from people if you need; you can get back to them in a few days under easier skies.
Dec 06, 2023 - Do you know how to just relax with your partner at home and still manage to enjoy yourself just as much as if you were to go out and do something fun? Is it easy or hard for you to be in stillness with…
Dec 06, 2023 - How much do you allow yourself to rest? Do you permit yourself time to just be, relax and rejuvenate? The Moon is in Libra and in your 4th house, and is asking you to reflect on those things. If you're the kind of person…
Dec 06, 2023 - Now is a time of excellent opportunity for you and this is a positive day to get things moving! Take time today to forge connections and nurture existing ones. The more you branch out, the more you can attract opportunities that are beneficial for…
Dec 06, 2023 - You're drawn towards social activity and connection with other people today. The potential for falling in love exists today—or, if you're in a relationship, falling in love all over again. Embrace the loving vibes by keeping your heart open and receptive. Balancing the chakras,…
Dec 06, 2023 - This is going to be a rather quiet day for you, so take that truism at face value and don't try to push anything. The intuitive Moon is sailing into your foundational 4th House, so this is the perfect time to focus in on…
More Horoscopes for Cancer
There is a sense of weariness or defensiveness when the 9 of Wands appears. We see a lone figure here with 8 wands stood up and planted in the ground in front of him. He holds one wand in a guarded position and looks out of the corner of his eye beyond the 8 wands.…
Let These Tarot Readings Help Guide You Through Your Day
Daily Gemstone & Crystal Reading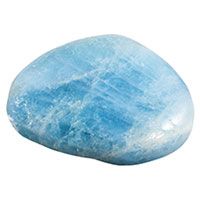 Calming, protective Aquamarine encourages openness and improves communication skills, making it a little bit easier to let people see your vulnerable side. This stone reduces fear and helps you feel more balanced when opening up to others. If you feel angry and aggressive or "seeing red," as it were, we…