Cancer Daily Horoscope: Tomorrow

Jun 04, 2023 - People could lead you to some very unexpected places today, Cancer, but as much as you like to know exactly what is going on at all times, I think it would be best if you just go with the flow and follow the crowd wherever it may lead. Mercury is winging its way through Taurus and your 11th House of social groups and global communications, and while he's there he'll align at the exact same degree as rebellious Uranus.
Uranus is the planet of surprise, so by nature it's almost impossible to guess what or whom he'll bring into your life, but thanks to the harmonious blending of these two energies it looks like you'll be very happy to go along with whatever program comes your way. Since Taurus rules finances be sure to pay attention to every conversation and engage with everyone you meet; someone out of the blue could wind up being the link to your next big project.
Jun 04, 2023 - Are you willing to do the necessary work that a relationship requires in order to actually thrive and succeed? The Moon is in Sag and in your 6th house. People quite often want relationships to be easy and go smoothly without actually having the…
Jun 04, 2023 - How disciplined are you in the way you go about your work? Are you able to maintain the focus necessary to take care of and manage all the details that need tending to? These are all questions to ask yourself today as the Moon…
Jun 04, 2023 - This is a time of powerful changes and you have the opportunity to change things for the coming future in a way that you may not have expected previously, Cancer. Taking time to understand yourself at a deeper level is important under this energy.…
Jun 04, 2023 - During this Full Moon in Sagittarius transit, Cancer should focus on releasing emotional baggage and finding closure. Take time to reflect and let go of any negativity. To balance the energy, practice self-care activities like journaling or taking a relaxing bath. Amethyst or Rose…
Jun 04, 2023 - People are going to surprise you today, Cancer, but as much as you might dislike the idea of surprises this doesn't have to be a bad thing at all; in fact, it could wind up being a very good thing after all. Mercury is…
More Horoscopes for Cancer
The King of Swords is not the guy you want to be on the wrong side of, but if you have his loyalty or appreciation, he's a good guy to have on your team. Often considered the highest leader of the court cards, he mixes the Fire element with his King status and the Air…
Let These Tarot Readings Help Guide You Through Your Day
Daily Gemstone & Crystal Reading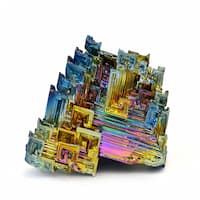 Bismuth is a beautiful multi-colored crystal that helps support transformation within the individual and brings a greater sense of confidence when working towards your hopes and dreams. It is especially helpful for teamwork and helps to relieve feelings of loneliness or being isolated. Bismuth is a Storm crystal and vibrates…