Cancer Daily Horoscope: Tomorrow

Dec 08, 2022 - Your focus has been oriented on your work life ever since Venus entered Sagittarius and your 6th House of routine and wellness. This transit can be great for increasing your potential success, as work is likely to flow more smoothly during this time of year than any other.
Thankfully Venus will be here for another week or two, allowing you to pad your wallet with a few new bonuses and commissions, but this might not be the day to make it happen. The Moon in Gemini and your fantastical 12th House will form a tense opposition to Venus, turning your attention away from work and towards anything exciting and unusual.
Instead of forcing yourself to put your nose to the grindstone, ease up on the gas and let yourself take it easy for the day. A little adventure never hurt anyone, and you can get back to making magic soon enough.
Dec 08, 2022 - Today is the perfect day for you to communicate those feelings that you generally don't feel comfortable sharing with your partner. The Moon is in Gemini and in your 12th house. True connection is not possible if you are not willing to share your…
Dec 08, 2022 - The Moon is in Gemini today and in your 12th house. This brings the focus to any hidden, negative feelings you have about your work that could be compromising your potential for success. Do you allow yourself to see the things that you don't…
Dec 08, 2022 - Things may be a little uncertain right now, Cancer. You might be wondering how you are going to afford some of your expenses. Some planning and organizing may be required of you today. However, things are looking positive for you in the future, so…
Dec 08, 2022 - This planetary energy may cause frustration, especially when it comes to your thoughts, Cancer. You may need to focus on self-care to promote positivity and good vibrations. Take some time to care for yourself with exercise and gratitude this morning. Selenite is an emotionally…
Dec 08, 2022 - Venus is in the midst of her annual three-week tour of your analytical 6th House of health, wellness, and routine. This cycle is more about Athleisure than Agent Provocateur, so if you're not feeling like the minx you know you can be, well, don't…
More Horoscopes for Cancer
The Knight of Cups is always a welcome card in any reading, particularly in Tarot readings about love or romance. A wonderful invitation is on its way to you, or you may be the one receiving the invitation. This invitation may be anything from a new date if you are single, to a proposal if…
Let These Tarot Readings Help Guide You Through Your Day
Daily Gemstone & Crystal Reading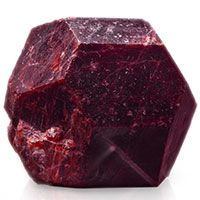 Garnet promotes love and attracts romance, making it an excellent stone to work with for anyone looking to increase the love in their life. This crystal is particularly helpful for those under the signs of Leo, Virgo, Capricorn, and Aquarius, all signs where loyalty is of the utmost importance. Garnet's…