Cancer Daily Horoscope: Tomorrow

Dec 10, 2022 - Monday is still at least 24 hours away but this is a really terrific time to start honing in on what you would like to achieve next week, Cancer, so if you can take some time out of your schedule to sit down and form a plan of attack I can almost guarantee it will serve you well in the days to come.
The Moon spends the day roving through your sign, and while she's there she is going to be imbuing you with all her bountiful and intuitive energy. When you host la Luna in your sign it helps you get in better touch with what you need on a soul level so take some time today and ask yourself what you really want and how you can go about achieving it.
You'll surely hit on some terrific plans that you'll get to implement to your advantage soon enough.
Dec 10, 2022 - Do you know how to give yourself as much love as you do your romantic partner? Is it easy for you to not completely lose yourself in your lover, remembering that it's equally important to devote time and energy to self-love? These are relevant…
Dec 10, 2022 - Today is a good day to bring the focus back on yourself. The Moon is in Cancer and in your 1st house of self. How much do you allow yourself to direct your energy towards yourself? Also, how much do you allow yourself to…
Dec 10, 2022 - How much time do you dedicate to unwinding, Cancer? This is a powerful time of reflection and worrying about money issues is not the best way to harness this energy. It is not the best way to harness any energy really, as it tends…
Dec 10, 2022 - You feel a surge of creativity and inspiration flowing through your body today, Cancer, encouraging you to express yourself in new ways. This would be a great day to try a new form of dance, helping you express yourself while moving your body. Blue…
Dec 10, 2022 - The emotional Moon is spending the day in your sign, Cancer, so don't be surprised if you've got a major case of the feels. With so many planets lining up in your opposing sign of Capricorn it can be a little difficult to read…
More Horoscopes for Cancer
In the 7 of Pentacles, we saw the worker taking a pause to assess a situation, and here, the 8 of Pentacles has him back at work. He is toiling away at his workbench and piling up 8 of the pentacles in the opposite direction. This Tarot card is an action card that sends the…
Let These Tarot Readings Help Guide You Through Your Day
Daily Gemstone & Crystal Reading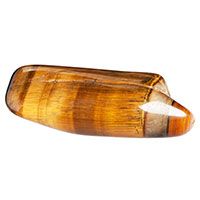 If we are looking to motivate ourselves to make a change or a commitment or are feeling depressed and self-critical, working with or keeping Golden Tiger's Eye near can provide protection and help us to find some sense of balance. Its warmth and brightness, both visually and vibrationally, can help…