For the Month of: May 2023
May - Welcome, dear Libra! May is the month of abundance and prosperity for you. Get ready to experience some beautiful surprises and a boost in your financial situation. Last month, you experienced a Full Moon in your sign, bringing much-needed change. This month, you'll be in high demand. Your charming personality and charisma will attract many new friends and admirers. It's a great time to connect with people who share your interests and values. Just be sure to prioritize your needs, and don't forget to take time for yourself.
May kicks off as Pluto decides to do a little dance and go retrograde in Aquarius. But fear not; this isn't a cause for alarm; it's an opportunity for transformation. Pluto's retrograde may have you feeling a little introspective and reflective about your passions and what truly brings you joy. So take this time to dig deep and explore what lights your fire and makes your heart sing. Whether picking up a new hobby, indulging in a guilty pleasure, or simply spending more time with the people and activities you love, embrace this energy and make the most of it.
On Friday, May 5, the Lunar eclipse in Scorpio arrives like a cosmic spotlight, shining bright on your beliefs, finances, and self-worth. Eclipses can be intense, but they also hold immense potential for growth and transformation. Whether it's your relationship with money, career aspirations, or values, this eclipse calls you to take a closer look and make any necessary adjustments. So, embrace these changes, my friend, and prepare for a brighter, more abundant future. You've got this!
Then, on Monday, May 7, Venus swims into Cancer and splashes around in your career and professional sector. Think of it like a refreshing swim on a hot summer day- a chance to cool off, relax, and take a break from the hustle and bustle of the world. In the workplace or group settings, you may find yourself going above and beyond to ensure success and recognition, like a mother bird building the most comfortable nest for her young ones. Don't forget to pour into your goals.
Mercury is finally done with its retrograde shenanigans and stationing directly on May 14. With Mercury finally moving forward in Taurus, you may find that your communication skills are extra sharp and effective. You can finally say what you mean and mean what you say without the fear of misunderstandings and misinterpretations.
The cosmos shakes things up because Jupiter enters Taurus on May 16, followed by a New Moon in Taurus on May 19. Jupiter's entrance into Taurus can bring profound blessings and expansion to your relationships and inner transformation. The universe says, "Hey, Libra, let's take your personal growth and relationships to the next level, shall we?"
And let's not forget about the New Moon; this is a time for setting intentions and manifesting your deepest desires. Use this opportunity to set powerful intentions around personal growth, transformation, and intimate connections. It's like a cosmic reset button for your soul—time to release what no longer serves you and invite in the abundance and growth you genuinely deserve.
Things heat up in the friendship department, with Mars entering Leo on May 20. Mars can bring a lot of energy and intensity to your social life, and while that can be exhilarating, it can also lead to some unexpected drama. So, stay grounded and be mindful of your interactions with others during this time. It's important to remember that not everyone may share the same values or priorities as you, and conflicts can arise if you're not careful.
The next day, the Sun enters chatty Gemini, calling for you to expand your horizons, explore new ideas, and embrace the joy of learning. With the Sun in Gemini, you may find yourself drawn to books, courses, or workshops that stimulate your mind and ignite your curiosity. It's like your heavenly invitation to explore the world and all its wonders.
Finally, the month ends with the Sun and Saturn clashing on May 28, and you may feel weighed down by your daily responsibilities. Finding the time and energy to pursue your passions and interests may be difficult. However, the Moon moves into your sign on the 29, calling for introspection and reflection. Remember, with patience and perseverance, you can find the harmony you need to thrive in all aspects of your life.
This month use geranium essential oil to promote balance and harmony. Along with rose quartz to promote compassion and love.
May's Mantra, "I trust in my ability to make decisions that serve my highest good, and I release any doubts or fears that hold me back."
Make sure to check back every month to get your personalized astrological insight from our experts.
Want more information about your own personal astrology? Discover more about your zodiac sign, monthly transits, and your birth chart through our free resources.
Get Your Free Horoscopes Here
There is definitely a sense of broken dreams or loss when the 5 of Pentacles appears. The Tarot is indicating that you are going through a tough time, and feel "out in the cold" in some way. Maybe you feel spiritually or emotionally abandoned by someone or something. Maybe you are just feeling a little…
Let These Tarot Readings Help Guide You Through Your Day
Daily Gemstone & Crystal Reading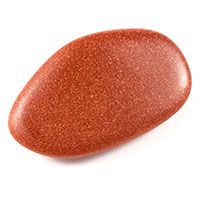 Red Goldstone is an uplifting crystal that can be used to find your positivity, become more confident, seek higher levels of calm, and can encourage us to be more ambitious and driven. The little flecks of gold throughout the crystal are symbolic of the "light" you may find when using…