For the Month of: January 2023
January - Welcome to January's lavish Libra. It is the first month of 2023, and abundance awaits you in the year ahead. Last month left you with Mercury retrograding in your home sector and a New Moon that found you planting new seeds of relocation, comfort, harmony, and more. Currently, the Sun travels through Capricorn, offering you a chance to recommit to what matters most. Your monthly horoscope for January 2023 predicts financial harmony, happiness, trust, and good faith. If you struggle this month, a little self-care will go a long way and help align your energies.
On January 2, Venus, your ruling planet, enters fellow Air Sign Aquarius, lightening the level of intimacy and encouraging you to reconnect with the honesty, friendship, passion, and shared interests that drew us to our friends or partners in the first place. This an expressive period for the goddess of love, and you'll find it hard to turn off the charm.
Then, a Full Moon arrives on January 6 in its home sign of Cancer, bringing last month's New Moon intentions to the forefront. Full Moons are emotionally charged yet highly magical and transformative cycles that bring about culminations, revelations, and even new beginnings.
2023 begins and ends with a Full Moon in Cancer, although Cancer craves comfort and security and is the connection to home life. This Full Moon encourages and supports you to move after your career goals or the dreams and projects you've been working on. If you've been giving your energy so freely to others, with very little in return, these energies will force you to set healthy boundaries and extend that same level of care that you give to others. Full Moons are ripe for manifesting, so use the energies to connect deeper with your intuition.
On Saturday, January 7, a Sun-Mercury conjunction brings important news surrounding career and family or may reveal information regarding a lost loved one. So stay alert and pay attention to the messages you receive as they show answers to current challenges.
Then, on Thursday, January 12, warrior Mars moves direct in Gemini after an eventful retrograde that forced you to check your inner philosophies and aspirations. If you usually suppress anger or frustration, Mars Rx is the correct dose of medicine to snap you into alignment.
Venus clashed with Uranus on January 14, right after the goddess clashed with the North Node. So if you've been waiting on others to fulfill your needs and expectations, the universe encourages you to stop ignoring your higher purpose.
When Aquarius season begins on January 20, you'll feel motivated to express yourself in ways and connect deeper with your inner child wisdom. A New Moon arrives in Aquarius the following day, and it's all about integration, acceptance, and flow. New Moons are magical times to reset, rest, harness magic, and set intentions for the upcoming cycle.
Expect this New Moon to hype up your love life and bring some unconventional and unrestricted romance. Aquarius encourages individuality, so let your freak flag fly!
Finally, the month ends with Uranus going direct in Taurus on January 22, ending a five-month retrograde period that began last year. As a result, you are focused on higher ideals, sharing finances within a long-term partnership or marriage, managing debts, or embracing your dark side.
Then Venus enters Pisces on January 26, allowing you to experience the free-flowing nature of love. Align to focus more on the day-to-day tasks, health, routine, and discipline.
Overall, your 2023 January monthly horoscope expands your life and births new opportunities. The only thing to be aware of is to monitor your energy in a metered way. Too much, too fast, can be overwhelming. Happy January!
January's affirmation, "I launch myself in a new calendar year and into a new endeavor to create a peaceful world. I trust in my ability to create the reality of my dreams. Full of peace, prosperity, love, intimacy, and trust."
Make sure to check back every month to get your personalized astrological insight from our experts.
Want more information about your own personal astrology? Discover more about your zodiac sign, monthly transits, and your birth chart through our free resources.
Get Your Free Horoscopes Here
Let These Tarot Readings Help Guide You Through Your Day
Daily Gemstone & Crystal Reading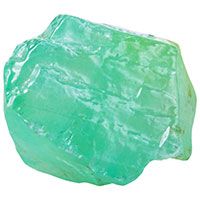 Because its primary chakra is the Heart chakra, working with Green Calcite can strengthen our connection You could also create an "Opportunity Elixir" by infusing your drink with Green Aventurine. Place a small (clean) chunk in your water or tea and let it soak for 30 minutes or more. The…