For the Month of: May 2023
May - Throughout October, you will be experiencing a Mercury Retrograde in your sign of Libra. This is nothing to be overly concerned about, but it is important to be mindful of it. The Mercury Retrograde is the last of 2021, and Mercury will station direct on the 18th. Some of the matters you should pay attention to are written and verbal communications. Libra is a sign of balance, and Mercury being the planet of communication may disrupt that balance a bit when Retrograde. Therefore, make certain to reread your emails before you hit send, and if you have to sign any documents, definitely run through the materials more than once. Being prepared is the most beneficial way to handle the Mercury Retrograde vibes.
A major luminary event happening in October is the New Moon in your sign of Libra on the 6th. Now is the time to dream about what you'd like to change in your current relationships. Perhaps it's about setting better boundaries for yourself or sharing something special with someone you love. New Moons are excellent times for dreaming, so don't hold back!
On that note, your ruling planet Venus moves into Sagittarius on the 7th. Venus in Sagittarius can manifest as the philosopher. Venus prefers when there is harmony and can act as a mediator while in Sagittarius. Sagittarius can be quite dogmatic at times, so this transit can help you see the other side of matters if you allow it. Let the theme of October be open-mindedness and exploration. You'll never know till you try which is the gift that Sagittarius can bring. For Libra Risings, this will primarily affect the area of life that involves your local neighborhood and short-distance travels. Therefore, whatever you decide, make sure to keep yourself and those around you safe.
On the 13th, there is a sextile between Venus and Saturn. Sextiles are transits that help bring about cooperation and positive energies. Saturn is a planet of hard work, and Venus enjoys the beauty of life. Therefore, when Venus and Saturn meet in this type of aspect, expect to be inspired to be productive. This may manifest in you cleaning out your closet, shopping for a new wardrobe, or curtains for your house. You could find yourself gardening or just creating something beautiful like scrapbooking. It may be as simple as trying a new recipe. This transit brings creativity, but also, a determination to finish the project. Make sure you provide yourself with the time to do both!
Lastly, on the 20th, there is a Full Moon in Aries. Aries is often an initiating sign, but Full Moons help to close out a season. Maybe that season, for you, began last year about this time with the last Aries Full Moon. Whatever insight you get around this transit make certain to use the courageousness of Aries to support you in whatever ritual you decide to do. Providing yourself the time to reflect will not only benefit yourself but also those around you.
Make sure to check back every month to get your personalized astrological insight from our experts.
Want more information about your own personal astrology? Discover more about your zodiac sign, monthly transits, and your birth chart through our free resources.
Get Your Free Horoscopes Here
On the one hand, the Knight of Pentacles is in no rush, not in a hurry to get anywhere. But on the other, the road ahead of the Knight and the red laurels on his dress and horse indicate he is ambitious and has a bright future ahead. When the Knight of Pentacles appears, the…
Let These Tarot Readings Help Guide You Through Your Day
Daily Gemstone & Crystal Reading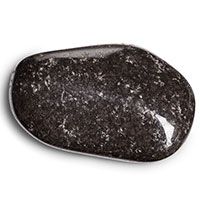 Known for its properties of encouragement, strength, and protection, Onyx connects very closely to our primary chakra, the Root chakra. This is because both Onyx and our Root chakra connect to our sense of safety, security, and our physical identity or sense of self.  The properties of this crystal are…