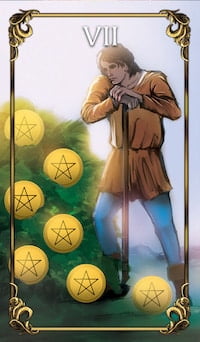 The 7 of Pentacles Tarot card says you have worked very hard towards your goals. Pentacles often signify financial moments in your experience, and so if that is the case, then know that you have been making all of the right decisions and moving so far, and your hard work will pay off. It's time to stop for a moment and assess your progress and how you can use that to your advantage in the future.
If this card represents love or relationships, a small break or separation may be in your experience, but this is not the ending of a relationship. It may also be a quiet period where communication slows down for whatever practical reason. Maybe one of you is on vacation or traveling, and you are merely going through an assessment phase until you can be united again.
In the 7 of Pentacles, we see a man pausing to look at the fruits of his labor. Pentacles represent money and work ethic and practical things like messages and paperwork. They also often reflect our higher states of consciousness as well. They are grounded symbols. A down to Earth approach is favored over an emotional one. In this card, the worker bee has stopped what he has done and is taking stock of his progress. This is a reflection card and a card that says, "your work ethic is working in your favor." The 7 of Pentacles is not an action card but rather one that says it is time to take a step back and look over your progress thus far before moving forward.