Dec 05, 2023 - You came here hoping to read a scintillating and sexy horoscope, Libra, and you might very well end up with just that, but perhaps not exactly in the way you'd expect. The intuitive Moon is slinking through Virgo and your sleepy 12th House of the subconscious, which can be a slightly sluggish transit.
However, while she's there she is going to take the opportunity to form a harmonious alignment with change-maker Uranus, currently camped out in Taurus and your sensual 8th House of sex and intimacy.
Under these stars your imagination could carry you further than ever before, so if an opportunity to pursue some very personal pleasures comes your way then be sure you don't turn it down because that would be a real shame. You can manifest your dreams right now, if you just take the road less traveled.
More Horoscopes for Libra
There is a sense of weariness or defensiveness when the 9 of Wands appears. We see a lone figure here with 8 wands stood up and planted in the ground in front of him. He holds one wand in a guarded position and looks out of the corner of his eye beyond the 8 wands.…
Let These Tarot Readings Help Guide You Through Your Day
Daily Gemstone & Crystal Reading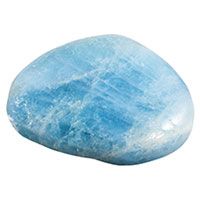 Calming, protective Aquamarine encourages openness and improves communication skills, making it a little bit easier to let people see your vulnerable side. This stone reduces fear and helps you feel more balanced when opening up to others. If you feel angry and aggressive or "seeing red," as it were, we…