Libra Sex Horoscope: Yesterday

Mar 28, 2023 - If anyone loves to have their cake and eat it too, it would be you, Libra. There's something so satisfying about being able to have whatever you want on your own terms, and of course there is–I don't need to explain the pleasure principle to you, of all people.
That being said, you can't always have said cake and still eat it because, really, eventually you have to make a choice whether you're going to take a bite or let it continue to exist in its uncut, glazed perfection. If this metaphor seems a little heavy, well, today is heavy so tough.
You're going to have to make a decision, and it might not be the most fun one you'll ever have to make. Are you going to pursue your pleasures or see to your responsibilities? There are people clamoring for your attention but they're all asking for different things; who are you going to pay attention to?
More Horoscopes for Libra
The 10 of Cups is a wonderful card to see in any reading, and when it shows up in your day, you are being given a message of pure love. For Yes/No questions today, the answer this loving card brings is an absolute YES. You are going to get what you want, and then some.…
Let These Tarot Readings Help Guide You Through Your Day
Daily Gemstone & Crystal Reading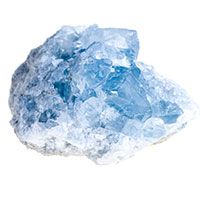 Celestite is a deeply spiritual crystal that helps to connect us to divine wisdom and supernatural forces within the cosmos. This is a crystal to use when you are strengthening your spiritual abilities. It is also a wonderful crystal for those exploring their clairvoyant or psychic abilities. It promotes inner…