Libra Daily Horoscope: Yesterday

Jun 03, 2023 - You aren't the kind of sign who tends to let themselves get too caught up in useless time-wasters. As interesting as it might be for some people to float around in unimportant territory, you have your mind focused on much more important and productive things, so you don't normally go looking for such things.
It would seem, however, that a very interesting bit of gossip or information is about to wing its way to you, and although you might normally dismiss it without a second thought, this time you should indeed hit the pause button on life and actually process this new intelligence.
The reason for this is the beautiful Full Moon in Sagittarius lighting up your 3rd House of communications and ideas; keep your eyes and ears open because the Universe is getting ready to send you a message, and you'll need to pay attention when it arrives.
Jun 03, 2023 - The Moon is in Sag today and in your 3rd house, do you have an easy time communicating your thoughts and feelings in your romantic partnerships? Are you able to be as open and transparent as you could be in the way you express…
Jun 03, 2023 - The Moon is in Sag and in your 3rd house of communications today. How skillful are you in expressing your thoughts and ideas in a clear fashion? If you feel like you could afford to hone that ability of yours, this would be the…
Jun 03, 2023 - Positivity is strong today and you can get a lot done in a shorter amount of time. Take time to go through your bills for the next week and get everything in order. The more organized you are, the better you will feel in…
Jun 03, 2023 - This is a great time for Libra to focus on balance and harmony. Spend time with loved ones and engage in activities that bring you joy. Rose Quartz is a helpful crystal for Libra, promoting love and harmony. Incorporating foods that are high in…
Jun 03, 2023 - You're really good at dealing with a lot of difficult aspects of life. In fact, you tend to handle things so well that people are often beyond impressed with you; this shouldn't come as much of a shock considering all your skills, but sometimes…
More Horoscopes for Libra
It's a new day and a new beginning when The Fool arrives in your Tarot reading. The Fool is the first card of the Tarot, and is noted by the number 0. This is the start of the Fool's adventure, and the rest of the cards are the experiences The Fool has while on his…
Let These Tarot Readings Help Guide You Through Your Day
Daily Gemstone & Crystal Reading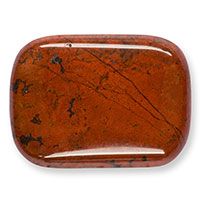 Red Jasper is a form of Quartz, and its energy radiates grounding, passion, and protection. Known as the "Stone of Endurance," it brings stamina, strength, and courage to the user. Warriors often sought it out in ancient times to encourage these traits on the battlefield.   Red Jasper is even thought…