Dec 02, 2022 - This is a great day to focus on what you're grateful for, Leo, as gratitude lifts your vibrations and helps you attract more of what you want in life. Make a list of everything you love about yourself and your life to help you feel more appreciative and balanced than ever.
Green calcite is a relaxing stone that will help you slow down and appreciate the moment today. Keep a piece of green calcite with you for calm and harmony throughout the day.
Cucumbers are refreshing, low in carbs and calories, and rich in nutrients like vitamin K. Sliced cucumbers with salt, pepper, and a side of cottage cheese will provide protein and keep you satisfied today, Leo.
If the 5 of Cups shows up today, it sends the message that there is some emotional pain on the table. We see a man with 5 cups around him, 2 are standing upright behind him while 3 are in front of him spilled over. This symbolizes 3 cups of love that have fallen down,…
Let These Tarot Readings Help Guide You Through Your Day
Daily Gemstone & Crystal Reading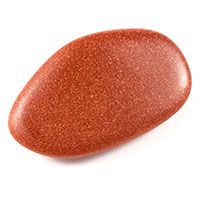 Red Goldstone is an uplifting crystal that can be used to find your positivity, become more confident, seek higher levels of calm, and can encourage us to be more ambitious and driven. The little flecks of gold throughout the crystal are symbolic of the "light" you may find when using…