Jun 04, 2023 - This Full Moon in Sagittarius transit is a great time for Leo to focus on creativity and self-expression. Try a new art form or indulge in a creative passion.
To balance the energy, practice grounding activities like practicing yoga or taking a nature walk.
Citrine or Sunstone can be helpful crystals for Leo, promoting creativity and abundance.
It's a new day and a new beginning when The Fool arrives in your Tarot reading. The Fool is the first card of the Tarot, and is noted by the number 0. This is the start of the Fool's adventure, and the rest of the cards are the experiences The Fool has while on his…
Let These Tarot Readings Help Guide You Through Your Day
Daily Gemstone & Crystal Reading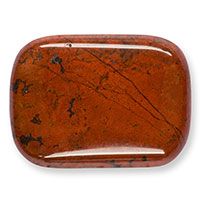 Red Jasper is a form of Quartz, and its energy radiates grounding, passion, and protection. Known as the "Stone of Endurance," it brings stamina, strength, and courage to the user. Warriors often sought it out in ancient times to encourage these traits on the battlefield.   Red Jasper is even thought…